Kandy Panorama Resort True to it's name
By Sanath Weerasuriya
View(s):
What would be the most beautiful scenic location in the city of Kandy? If anyone asked this question, I would never hesitate to name top of the hill off Dharmaraja Mawatha as one of the best breathtaking locations in the hills.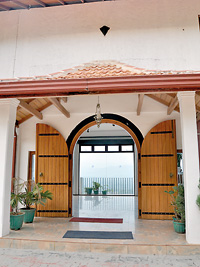 The precise location is the rooftop of the Kandy Panorama Resort, which has the best view in Kandy. Kandy Panorama Resort is situated top of a picturesque mountain off the Lake. As you check in you enter the lobby, which opens out to Kandy's most scenic Dumbara valley. The 180 degree bird's view of the Dumbara Vally and the Knuckles range with a nearly 22 kilometre range of the flow of the great Mahaweli waters at the foot of the resort is just more than a painted picture.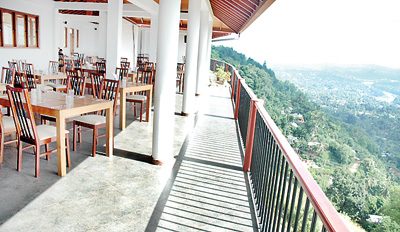 The Kandy Panorama Resort is almost five years old and has well appointed 14 rooms with all facilities. Some of the rooms are family rooms and the resort can hold up to 35 pax at one sitting.
Panorama Resort is owned by a Sri Lankan who has spent nearly 20 years in Switzerland and is fully conversant in English, Swiss-German and German languages. 'Actually I built this place just as my own nest in the hills. But after completing many of my friends requested to let them too enjoy the best place in town. Only after that I thought of doing proper marketing for the place' explained Shanaka Bandara Wijesooriya, the sole proprietor of the Resort.
Kandy Panorama Resort is now one of the most sought after small luxury hotels in Kandy. The lobby area, rooftop restaurant and all the bedrooms opens out to this greenish blue view of the Hunnasgiriya and the knuckles mountain range. 'The most unique event of the Resort is to witness the sun rise from the Eastern mountain slopes. This breathtaking moment will linger in the minds of guests for a long period' he said.
'Apart from the scenic view, our main attraction is the friendly service and the food. We are guest oriented and always cater to their needs. We consider every guest coming here as a VIP' Shanaka said. The Resort is popularly known as 'eagles eye view' has one of the best cooking teams in the hills. They are always ready with their services to satisfy the guest's desires.
'They are well versatile with authentic Kandyan cuisine and as well as Sri Lankan, Indian, Chinese, Italian, German and Continental preparations. Though not a qualified Chef, I always go to the kitchen to help them in European dishes which are much familiar with my service' Shanaka said. 'I am very familiar with the aspiration needs of the European communities' culture. This will immensely help them to offer fullest satisfaction during their stay in Sri Lanka especially at my resort' he added.
The Kandy Panorama Resort is also used as a base for excursions by most of the overseas guests. 'Some of the guests come through the web and they want adventure travel. Upon request, we arrange guided tours to Knuckles, Riversaton, Hantane, Dambana, Victoria and Randenigala and nature trekking too' Shanaka said.  Pix by Shan Bandu Weerasingha