Going big time with his own kind of music
View(s):

A downside to being a rising star is that Arjun Coomaraswamy seldom gets a chance to recover from jet lag. He's been known to fly halfway across the world, perform at a packed concert and then return to the UK a day later. In Sri Lanka, luckily he has more than a day. It's just enough time for a meet and greet with local fans and for an interview with the Sunday Times where he shares the good news about being signed to T-Series, India's 'No.1 Music Label'.Unfortunately, it's not enough time to recover from his jet lag.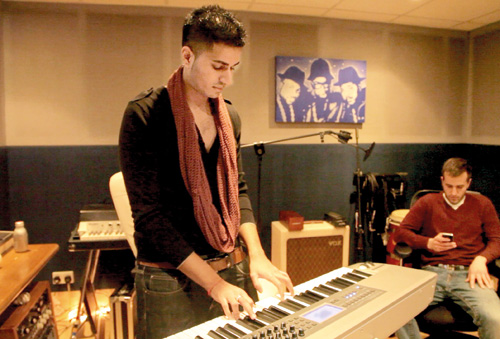 The rest of the year will only bring more of the same. His career is built on his internet presence –he's currently 'the most viewed independent UK Asian artist on YouTube,' with over 30 million views on his channel alone – but increasingly Arjun is leaving his studio and video camera for the big stage and a live audience. He's now in the middle of a tour that will cover India, Sri Lanka, Malaysia, Australia and New Zealand. Later in the year will find him in Europe, where he will perform in Paris at the Ms. Sri Lanka in Europe pageant.
His calendar is only likely to get more crowded as he begins promoting his new songs. Arjun has just released his first single for the upcoming album – 'I'll be Waiting (Kabhi Jo Baadal)' clocked around 2 million views in 2 weeks. It charted at #1 in the iTunes Indian Pop Chart and #3 in the UKBBC Asian Download Chart. A second single is due mid-June with the album itself scheduled to drop in July/August.
Considering the demands of his profession it's handy then that like his father, Arjun can nap anywhere and like his mother, he loves music. In Colombo, sitting in the beautiful old colonial building that has been his family's home since the 1950s, Arjun says he has his parents to thank for his career. His mother forced him to learn all sorts of instruments up until his teens when he finally discovered his own motivation for pursuing music. (He still plays the guitar, piano, bass, drums and flute).
He began writing original pieces early on but always preferred to hand over his songs to someone else to sing (a self-dubbed geeky child, one of his first songs was titled 'Cosmic highway'). "I never wanted to be the centre of attention, I never wanted to be the singer," he says. All that changed when his friends convinced him to enter a talent competition while he was studying architecture at Cambridge. His win set him down the path to success as an independent artist, one particularly popular with the South Asian diaspora.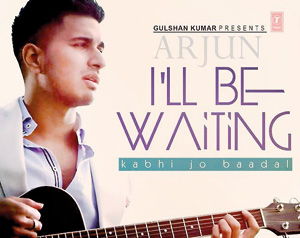 Serving up his signature blend of R&B fused with Bollywood and Chollywood (Chennai film industry) numbers, Arjun's remixes will take a favourite like ChaiyyaChaiyya and lace it with the sounds of Nikki Minaj's Super Bass or feature catchy bilingual collaborations between him and Indian artists. This isn't the music he grew up listening to but Bollywood tunes have made a fan out of Arjun. He says he counts on their high production standards and global appeal. In turn, T-Series is counting on him to help them tap into that international fan base as one of a new breed of artists who they hope will woo listeners from an ever growing South Asian diaspora.
Arjun traces these recent, exciting developments in his career to one extraordinary single. His cover of 'Kolaveri Di', released over two years ago, now has over nine million views on YouTube and won him praise from its creator. In the 18 months that followed, Arjun toured widely, invited to multiple concerts on the strength of that single alone.
Having made the decision to quit a career in advertising and design to do this full time, Arjun is glad his bet paid off. "It can be scary," he admits, talking about those early days when quitting his job meant that he no longer worked to the schedule that his friends took for granted. Though he could go into his home studio anytime, he set himself a strict routine. When he wasn't working on his own music, he was serving as a producer for someone else.
As a team of one, he not only wrote his own music, he sang it, often accompanied himself, produced it and then found a way to market it. Arjun took care of his own social media – managing his Twitter and Facebook accounts where he now has over 42,000 followers and over 340,000 respectively. Earning a living from music isn't easy – with actual album purchases dropping, artists such as himself have to find creative ways to make money. His YouTube videos generate revenue from advertising, radio stations pay every time they put him on air and of course the concerts earn him money from ticket sales.
He's been helped along the way by several honours. He was selected to sing the Official ICC Cricket World T20 2012 theme song and had the #2 song in the first ever 'Asian Music Chart' on mainstream UK TV with his track 'Stargazer' – second only to Grammy award-winning producer A.R Rahman. In 2012, he won 'Best Urban Act' (in association with the MOBO's) at the UK Asian Music Awards and was nominated for 'Best Newcomer' at the Brit Asia Music Awards the year before. In 2012, he was named one of MTV's Top 20 unsigned acts.
Now that he is on the verge of becoming a player in the big leagues, Arjun is grateful for the years of hard work behind him. The process has defined him as an artist. He says now that he's grateful he knows what it's like to have to build a career from scratch, because it's taught him to value it. He also counts himself lucky for the support of family and friends and says his ties to Sri Lanka hold strong. Currently, a lot of baila is finding its way through his headphones as he tries to figure out new, Sri Lankan inspired remixes. Local fans can look forward to hearing what he's come up with when he returns home in December for what some are hoping will be the first of many performances.
Find Arjun online at www.facebook.com/arjunmusic