Planting the seeds of religious values
After a resounding success earlier this year, Patachara, a musical drama by the Arkavila Dance and Theatre Foundation (ADTF) will hit the stage again. Here Janaki Hill, director and script writer speaks to Dhananjani Silva
View(s):
Set against the backdrop of an ancient Indian palace in the city of Savath is the story of the king's beautiful young daughter, Thara who falls in love with a poor woodcutter Dharaka. As the story unfolds, several dramatic events follow suit. When their scandalous affair
comes to light she is confined to her house by her over-protective parents. Eventually, she elopes with her sweetheart. The scene shifts to the tragedy that takes place in the forest where she loses the love of her life and her three children including a newborn in the process of crossing the Achirawathee river.
The famous Jathaka tale of Patachara will be beautifully recreated in all its historical grandeur, at the Nelum Pokuna Mahinda Rajapaksa Theatre when the Arkavila Dance and Theatre Foundation (ADTF) takes the stage with their musical drama production 'Patachara.'
With their first performance in January being a huge success, a repeat show is now planned for May 10 and 11at 6.30 p.m.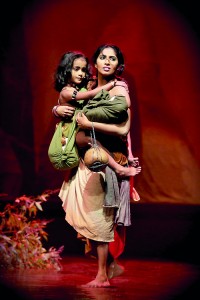 This artistic expression of the musical, according to its director and script writer Janaki Hill, aims to reach out to the youth with a message on religious and cultural values. "We see a lot of modern-day Tharas who tend to disregard social values and become victims of the hasty decisions they take at an immature stage in life, losing hold of their lives and turning to religion in the end," she says.
ADTF is an outcome of an ambitious goal of Janaki and her husband Peter Hill to serve the rural youth who are passionate about theatre, dance and music in the remote village of Arkawila in Handapangoda, Janaki's hometown. The journey this duo embarked on in 2007, with a vision to promote traditional dance and theatre, has evolved with about 200 youth being able to realize their full potential in dance and drama be it Kandyan, Low Country, Kathak, Bharatha Natyam, Ballet etc. Students now come from areas like Ratnapura, Horana, Homagama, says Janaki.
"The children who come to our foundation are multi-talented. Some are skilled musicians while some have dancing skills. So I wanted to introduce them to the world through a good production. However, it occurred to me that it is only though a blend of dance, drama and music that their talents could be showcased. So I selected Patachara," Janaki explains.
Having staged many dance dramas, short films and productions such as 'Chalana' students of ADTF have even represented Sri Lanka at the Edinburgh Festival Fringe in Scotland in 2009 – which Janaki says, motivated them a great deal.
Acknowledging the support received from her husband who is the producer, Janaki says that she did not have the burden of having to deal with the financial constraints that many local artistes are burdened with.
Janaki says she read and re-read the original Jathaka tale and watched videos to ensure that she would do justice to the original story line, although her production has slight variations. Jankai has paid equal attention to costumes, choreography, stage props, lighting, sound effects and other aspects.
Patachara's dance choreography is done by Janaki along with Rukshala Maddegoda, Kapila Palihawadana (nATANDA) and Srilal Perera (Srilal Academy) whilst acting choreography is handled by Anura De Silva together with Janaki. Music is by local composers Athula Edirisinghe, Pabalu Eranga along with the Indian composers Nithin Kumar Guptha, Kandamalar Janendranan, Prem Hariya, Jasion J, Abi and Jeya Devan. The lead role of Patachara is played by Rukshala Maddegoda while Dharaka is played by Kapila Palihawadana.
Tickets priced at Rs. 1000, 2000, 3000 and 5000 are available at Nelum Pokuna, Sarasavi bookshop Nugegoda /Maharagama, Sadeepa bookshop Borella, Yamaha Music Centre Colombo 7, Vibration Union Place, Vanapetha bookshop Dehiwala, Thilakawardhana Textiles Kiribathgoda/ Ja Ela/ Nittambuwa. Online :www.tickets.lk.com