Helping people face their future
By Ara Rasool
With the wisdom of years behind her, psychosocial counsellor Gnanatheepam Shanmugam puts her heart and soul into her work
View(s):
Her silent service has brought comfort to many. She listens to their stories that are painful and sad and helps them face the future with renewed hope. Consultant on Psychosocial Counselling, Mrs. Gnanatheepam Shanmugam (known to all as Gethsie) has counselled hundreds of women and children from remote areas like the war-torn North and East of Sri Lanka.
Born in Nawalapitiya in 1934, Mrs. Shanmugam is a past student of Mowbray College Kandy. She married in Jaffna and lived a very short time there, then returned to Colombo to start her teaching career. She is a mother of two daughters and a grandparent to five grandchildren. 'My family is not in Sri Lanka now, they understand that my heart and soul is in this country and let me continue my work here," she says.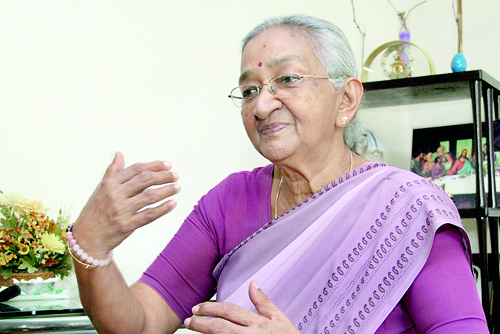 Gethsie's counselling career began when she was teaching at St. Joseph's College, Colombo, and was selected to follow a counselling course at the Family Studies Services Institute and Subodhi run by Fr. Mervyn Fernando. "Fr. Mervyn used to always quote Edwin Markham, 'why build these cities glorious? If man unbuilded goes? In vain we build the world, unless the builder also grows'. I strongly believe in this quote."
She worked her way to educate herself in family counselling, psychotherapy, and training for the care of children of war, teaching in schools, working with establishments such as UNICEF and SLBC. She is also qualified in Pranic healing and Reiki. Her work has taken her to countries such as Nepal, India and the UK and her services in counselling children from the tribe of Aadivasis to war widows in Mullaitivu, earned her a SUNFO AWARD on Women's Day in 2006. She was also felicitated by the Past Mowbray Pupils Association Colombo Branch.
Talking of her involvement with war widows, Gethsie says "I do not want to call them widows; I call them 'Amma'," expressing respect for the women whose normal lives are broken. "There is much internal and external harassments that war widows face. The wife sometimes doesn't know why the husband was killed. Sometimes the wife has a guilt known as the survival guilt that the husband died because of something she did. She has the burden of looking after her children by herself.
"Being a woman is also carrying a part of another's pain with you," she adds.
The community too looks at the war widow in a negative way, she remarks. The widow is falsely accused of an affair, a visitor in the night creates rumours, and she is even said to have some relationship with the shop keeper if he gives her some extra groceries out of pity. She is not allowed to attend weddings, sometimes not even her own child's wedding. She is told not to wear coloured clothes, and if it is a Tamil widow she cannot keep the bindi," Gethsie says with great concern. But things change with help, she feels. "When she is counselled and has a support group, she changes slowly. The support group helps her to gain confidence."
War widows in this country are helped by the Government of Sri Lanka with financial aid and Gethsie says they have to be taught to develop their own credit systems to ensure their own financial stability. "The Ammas should be taught to study the market and involve in building businesses. They have the courage to improve and the stamina. Someone needs to help them to intelligently manage the money."
Having counselled many war widows, she has stories of hope amidst the pain. "An 'Amma' I counselled had opened up a tiny boutique on the roadside selling fried snacks and 'bites'. I went to visit her with a friend of mine. When I was sitting there talking to her, a cow came along and waited patiently till she spoke to us and then went out to give it some food. My friend then told me that even the cow knows where to get love and concern. I was really happy to see that Amma keeping the home fires burning."
Women having an educational background to some extent has helped them, she feels. "Their vision changes, they want to be better and they want to be a model to their children. They are not like the woman in history accepting whatever the husband says." Usually, the weight that the present woman carries is not appreciated, she feels. Preserving culture is an extra challenge for Sri Lankan women.
Counselling is not easy, but she embraces the challenges. "I went on from student counselling to family counselling and then into war trauma. You can never learn enough in this field and so I'm still learning. People and times change and we have to cater to the client sitting in front of us.
"Now everybody wants a quick fix and counselling is not a quick fix. Approaching the client in a proper manner is vital," she says.
She believes dance movements and many more methods help people to get rid of inner trauma. "They say dancing is taboo for women, but I don't think so," she says.
Gethsie would like to see more women counsellors in this country- there aren't enough women in the field. "Not everyone can counsel. It's not an easy task. Counselling is very sensitive. It's not a theory it is life that has to be understood. A counsellor should understand the client. A counsellor has to touch the client's soul with hers."
With the wisdom of years behind her, she advises women to build up self-esteem and not be buffeted by people's opinions. "Women should feel beautiful inside. As soon as someone says they are not good enough they accept that, but if someone compliments them, they forget. They then go into emotional eating and when someone calls them fat they crash. Wake up. See yourself as beautiful. Look in to your soul that longs, craves and waits to move forward. Do not give up on education." Women should reach out to other women in trouble, she feels.
Mothers in our society sometimes tend to mollycoddle their sons, she adds. "A mother is the role model for her daughter and she holds a big responsibility for her daughter's mental wellbeing and son's ability to understand. "It should start from the cradle. Teach children to find out who they are. From the time they lose the milk teeth help them look into the mirror to realise who they are."
Technology has opened many methods to communicate, but in her book, technology cannot play a big role in handling relationships. "Understanding emotions is important. One must listen with the heart and not with the mind," she says.
Her work with the war widows in Sri Lanka has been documented as 'Rebuilding Lives' by Save the Children Norway. She has also published a Facilitation Guide Kit for Health and Growth.
She will be turning 80 this December but her stamina and enthusiasm for her work amazes many. When asked about her secret of success Gethsie happily answers "I have accepted who I am. I accept change and also understand that I cannot change the world. I engage in different types of meditation. Working with children and women gives me a feeling of contentment. That's why I'm making exercises and modules to help the elders in the society to lead the rest of their life in a happy and successful manner. That's my next mission."