Events
View(s):

Dr. K. Balasubramaniam memorial lecture 

The People's Movement for the Rights of Patients (PMRP) will conduct the Dr. K. Balasubramaniam memorial lecture on Saturday May 10 from 9.30 p.m. at the Centre for Society and Religion (Fatima Church premises, 281, Deans Road Maradana).

Dr. Balasumbramaniam worked for almost two decades with the revered Prof. Senaka Bibile to restore a health service where the wellbeing of the patients is given top priority.

The speakers at the seminar will be Prof. Carlo Fonseka, president of the Sri Lanka Medical Council, Dr. Ananda Wijewickrama, consultant physician, and Chrishmal Warnasuriya, attorney-at-law and barrister.

They will speak on the proposed legislation for a National Medicinal Drugs Policy aimed at making quality drugs available to the people at affordable prices.

The seminar will be followed by the annual general meeting of the PMRP. All are welcome.

For further details, please call 072945327.

Muslim Aid lays foundation stone for new pre-school in Yanu Oya 

Muslim Aid Sri Lanka laid the foundation stone for a construction of pre-school in Yan Oya village in Welangahulpotha GN division,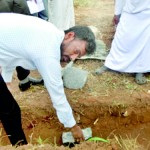 Horowpathana – Anuradhapura District on April 25. Muslim Aid is constructing pre-schools under the long term programme of "Education for All" to create opportunities for vulnerable children who are facing difficulties in obtaining pre-school education. This project was undertaken in response to a request made by the Yan Oya village community.
The event was graced by the Assistant Divisional Secretary Horowpathana R. Senthil, Assistant Director Planning Horowpathana, I.K.W. Nayana Wickramanayakhe, Muslim Aid Staff, members of Rural Development Society and members of mosque committee.
Sriyan de Silva Wijeyeratne launches 'Wild Clicks' 
A pictorial journey through the wilds of Sri Lanka to terrains of the world
CEO of Textured Jersey Lanka PLC and former head of Microsoft Sri Lanka recently launched his maiden book 'Wild Clicks'; an anthology of extraordinary photographs of wildlife, spanning Sri Lanka to excursions across many other parts of the world. Over 350 guests attended the launch held at St. Peters College Hall, with several Friends, photography experts and wild life enthusiasts amongst the audience.
AnandalalNanayakkara, attorney-at-law who studies Sri Lanka's fauna and Herpeofauna and is also a former member of the IUCN World Commission on Environmental Law, spoke at the launch, highlighting the changing global landscape when it came to Environmental legislation and the different trends that are emerging.
Rev. Father Mervin Fernando, founder of Subodhi Institute and author of three nature books on Sri Lanka, spoke about the connection Humanity has with nature, and mankind's ability to simply enjoy the sense of Wonder of its natural beauty, both of which are artfully captured in Sriyan's book.
Shanik de Silva, son of Nihal de Silva and Sriyan's close friend, gave a special introduction to both the book, and to Sriyan, from his personal perspective.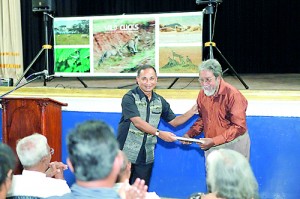 Sriyan who addressed the gathering said that his goal in publishing 'Wild Clicks' was a simple expression of his art and his need to share his passion for the wilds with likeminded people. He said that he hoped it would encourage more people to publish their work. Rather than seeing his busy work schedule as something which prevented him from getting out and spending time with nature, Sriyan said he found that nature had a soothing impact on him which helped him to shed work stress and go back rejuvenated to his business routine.
Sriyan presented the first copy of his book to his uncle Carl, who first influenced him to take an interest in the Natural world. He also paid a tribute to the late Nihal de Silva, by presenting a copy of 'Wild Clicks' to his wife Shirleen. The Book is dedicated to his uncle Carl Fernando and the late Nihal who were both inspirational in Sriyan's passion for nature. Sriyan thanked the many people who helped him with the artwork, layout and printing of his book along with his family; wife Geraldine for her love and support and daughters Ashinsa and Rashmi who have also contributed photographs to the book. The book's foreword is by experienced photographer LuxshmananNadaraja with written contributions by Gehan de Silva Wijeyeratne, AnandalalNanayakkara, Rev. Fr. Mervyn Fernando and Dr. A.J. Roshan Perera. The title logo of the book was designed by Sriyan talented artist daughter Ashinsa.
Wild Clicks, which has had a great reception so far, is available at several leading bookstores in Colombo such as Vijitha Yapa, and the Barefoot Gallery.
13.7 + P= O: A new performance by CP Arts
Seventy youth from different parts of Sri Lanka comprising of Centre for Performing Arts (CPArts) groups from Avissawella, Illavalai, Jaffna, Kilinochhci, Monaragala, Vavuniya, production directors, and technicians included, some from the former war zones still recovering from the deep trauma of the last phases of war. All of them young, enthusiastic and talented.
It was a production that came about after much consultation and deliberation between two great minds from the north and south. Rev. Dr. N. M. Savari, the founder director of CPArts based in Jaffna and Rev. Dr. Mervyn Fernando, founder director of Subodhi, Piliyandala. Both are best known for their work with youth groups from all over Sri Lanka. Both share the love of the arts and sciences, a deep philosophical thinking and the mystical vision of Teilhard de Chardin.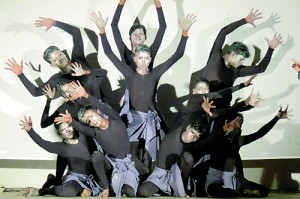 This is how 13.7 + P = O came to being. When the two priests began to discuss on how to formulate a visual presentation of Chardin's evolutionary vision for the Teilhard de Chardin International Conference that was held last week to celebrate the Silver Jubilee of the Teilhard de Chardin Centre for Science, Spirituality at the Subodhi Institute Piliyandala. Chardin was an outstanding thinker of the 20th century, a many faceted personality who was at the same time a Jesuit priest, a scientist, a mystic and a poet. It was his thinking that; "By a perennial act of communication and sublimation, man aggregates to himself the total psychism of the earth. And when he has gathered everything together and transformed everything, he will close in upon himself and his conquest, thereby rejoining, in a final gesture the divine focus he has never left. Then as St. Paul says, 'God shall be all in all".
Based on Chardin's vision, the presentation then evolved into a production of 42 minutes which was carried out in two parts through a documentary and a dance mimed performance, the latter created and supervised by Fr. Savari.
Explaining the title, Fr. Savari says,. "13.7" is the time allocated to the big bang, "Pie" in mathematics is the unknown age factor of the existence of mankind and "Omega" or the omega point is the final culmination of the evolution of man.
The production used modern drama techniques like theatrical sculpturing to create still images and moving images, strobe light effects and black theatre to heighten dramatic effects. The music includes the mystical intonation of "om" while lighting and sound effects acted as a language by itself that communicated with the audience.
The first part of the production was a documentary which shows the Big Bang and the formation of the stars, galaxies, sun, planets and earth, followed by the development of cell organisms, worms, jelly fish, trilobites, marine plants, amphibians, forests, marine reptiles, dinosaurs, birds and mammals. Part two begins with the dance mime performance and introduces the evolution of homo sapiens and the resulting development of civilisation. The performance closed with a dramatic display of the culminating point of the process of evolution. Thus Chardin's vision was communicated without the use of a single narration or dialogue.
The performance was held on April 26 at the Fr. Mervyn Fernando Auditorium in Subodhi. At the end of the performance Fr. Mervyn was honoured by CPArts founder director Fr. Savari, who has the greatest respect for his guru and good friend. It was a touching moment to see the one- time student garland and drape a shawl on his guru Fr. Mervyn to mark his 80th birthday.
A special performance of 13.7 + P = O will be held at the Jaffna CPArts Theatre, Main Street (Kalaiyagam) on May 10 at 5.30 p.m. organised by CPArts Unit -The Forum which conducts a monthly discussion programs in English. The dance mime will be part of this month's programme which will focus on evolution and human destiny. For further details contact Satheesh Kumar on 0779037555.
-Kishanie S. Fernando
Seeking assistance for hip surgery 
S.S.A. Irangani Siriwardene (49) from Hettimulla, Kotadeniyawa is suffering from severe Osteoarthritis in both hip joints. She is seeking public assistance for Bilateral Total Hip Replacement surgery.
Consultant Orthopaedic surgeon, Dr. Pradeep Fernando from the National Hospital has estimated the total cost of the surgery would be Rs. 450,000, of which Rs. 150,000 has already been provided to her by the Presidential Fund. She appeals to kind hearted donors to send any donations to A.C No 3079055 of the Bank of Ceylon branch of Meerigama or to A.C No. 108654399385 of the Meerigama Sampath Bank under the name S.S.A.I. Siriwardene. Irangani can be contacted on 0725788808.
Tagore remembered 
To commemorate the 153rd birth anniversary of Gurudev Rabindranath Tagore, High Commissioner of India Y.K. Sinha will garland the bust of Tagore at the main Library of the University of Colombo at 9.30 a.m. on May 7 in the presence of the academic community and Tagore aficionados. The event is jointly organised by the Centre for Contemporary Indian Studies, University of Colombo and the Indian Cultural Centre.
To pay homage to Gurudev the Indian Culture Centre is also organising Narthaki – an evening of Indian and Sri Lankan Dances by Chandana Wickramasinghe and the Dancer's Guild of Sri Lanka at 6 p.m. on May 7 at its auditorium at 16/2 Gregory's Road, Colombo 7.
Chandana Wickrarnasinghe and the Dancers' Guild of Sri Lanka, will present traditional, folk, creative and modern dancing based on Kandyan, Low country (Sri Lankan Style) lndian dance and free style dance. He also attended the prestigious university of Vishva Bharathi, Santi Niketan to study Kathakali and Manipuri styles of dances.
All are welcome. The admission is free and seats are on first come first served basis.
For further details please contact the Indian Cultural Centre on telephone no: 2684698 and Email: iccrcolombo@gmail.com.