Letters
View(s):

Child-centred policy can clear the education mess

With the Sunday Times reporting that mathematics is a stumbling block for 50 per cent of the GCE O/L student population – it clearly needs the attention of education experts.

When we attend the International Seminar on Autism in Malaysia under the patronage of the First Lady of Malaysia, the problem of 50 per cent of the students scoring low marks in math can be taken up. Eminent health experts like Prof. Eric Fomboune, Prof.Dissanayake and Dr. Wu Ruth who are specialists in child mental care will be at this seminar

Our case is further aggravated by the introduction of nine subjects compared to six subjects in the good old days when we produced all the men and women needed for this country and even to take on assignments abroad.

With the need to go tri-lingual the child has to cope with so many letters in different vocabularies. No doubt the child's brain may be enlarged but the brains of the parents and teachers who are there to guide them are not competent to handle this new situation. Some Tamil books recommended for the Sinhala students are only in Tamil and hardly any parent can guide the child without the need of a private tutor. The books for teaching Tamil in both languages are not recommended in the syllabus.

The tragedy is that all this education planning happens in air conditioned rooms far removed from the needs of the country and with less attention to the opinions of the recipient. Our education planning is not child-centred. Medical experts keep silent or fear to express their opinions, waiting for the World Bank or some NGO to speak about the problem.

Being a teacher and popular tuition master, surely the present Education Minister is the most suitable person to give a solution to this problem. The sooner the better since we are playing with the next generation.

Bandula Nonis

Via email

Police take right turn on motorcyclists

The Police Department should be congratulated for requesting motorcyclists to turn their head lamps on during day time also. In several European countries and the United States it is a must for motorcyclists to have head lamps on when on the move during daytime.

Most new vehicles have LED (Light-Emitting Diode) running lights, which get switched on when the engine is started and they remain so till the engine is switched off. It is a safety measure, not a decoration.

This new step by the Police makes it easier to notice a motorbike coming behind you or on either side of your vehicle and take precautions, as motorcyclists have a habit of creeping through moving vehicles.

Police should also check that motorcycles have their red tail lamp on at night. Motorcyclists who do not have their red tail light on at night run the risk of being hit from behind by faster moving vehicles.

It is also dangerous on rainy nights. Most motorcycles are black and the raincoats worn by most motorcyclists are also black. They are virtual ghosts on the road on a rainy night. Police must ensure that helmets and jackets worn by motorcyclists at night have reflective or luminous stripes on them. It is gratifying that Police officers on night traffic duty wear reflective jackets.

Police have also started to issue reflector stickers to cyclists. It is the responsibility of the cyclists to protect themselves.

Police should also ensure that motorcyclists ride their bikes on the right lane, unless they are turning right or left. Motorcycles should not be allowed to creep through and move in front of vehicles stopped at colour lights. Motorcycles of this country are under-powered and over loaded and as a result, slow in take off and they swing from side to side till the rider gains balance.

Motorcyclists and public should understand that the Police are taking these preventive measures to ensure their own safety and not for fun.

Tissa Jayaweera Via email

Toy pistols and staged dramas

What or why is this hulaballoo over the Hambantota Mayor brandishing a pistol, a toy pistol at that?

Have we forgotten a similar incident in Kelaniya where a public servant was tied to a tree and in the disciplinary inquiry, it turned out to be a staged drama – a rope trick — and the culprit was exonerated?

Similarly, the Hambantota Mayor's 'toy' pistol brandishing will turn out to be another staged drama and the result will be the same.
Incidentally, toy pistols are play things of small boys. What is the difference between men and boys? It is simply the size of the toy they play with. In this instance the Mayor of Hambantota.

G.A.D Sirimal
Boralesgamuwa

Act fast to avert tree tragedies on roads

With weather conditions getting worse throughout the country due to the seasonal rains as well as the low pressure developing outside the country, we often experience heavy winds with torrential rain.

We also see traffic blocks due to trees falling on main roads. Now and then we hear of tragic incidents where commuters are killed or injured when trees fall on their vehicles. Along the Colombo-Kurunegala main road, especially from Pothuhera to Alawwa, there are several big trees on both sides of the road with their branches hanging onto the road causing danger to passers-by and motorists. Will the RDA or relevant local councils take speedy action to avert the tragedies waiting to happen?

Shiran Ratnayaka
Via e mail

Make Bogambara prison site a central bus stand

This is the right time to propose a Central Bus Stand for Kandy as the necessary land for this project is now available with the shifting of the Bogambara Prison to Pallekelle.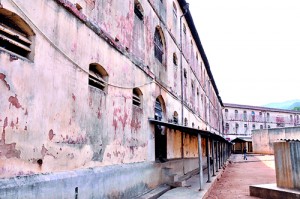 At present, there are several bus stands in Kandy and, as a result, they create severe traffic congestion in the city. Kandy is relatively a small town and its traffic congestion is caused mainly by the parking of buses and other vehicles. This congestion was partly reduced after the multi-storey car park was built.
However, a central bus stand could not be built mainly due to lack of land. Since the Bogambara prison complex has now been vacated, it provides an ideal location for a central bus stand for Kandy. The location is close to two main roads — William Gopallawa Mawatha and the Kandy-Peradeniya Road. If a bus stand is provided at this location, a large number of buses entering and leaving Kandy city could use these two roads and avoid passing through the narrow streets of the city. This would ease the congestions considerably.
Cecil B. Abeykoon
Kandy
Correction
In the letter published in the Sunday Times Plus of April 27 under the title 'Human rights probe let the investigators come and see', the writer's name should have read Dr. V. P. H. Rajapakse and not D.V.P.H. Rajapakse. The error is regretted.