NFOA New Year celebrations
By Ara Rasool
View(s):
Spectacles and walking sticks did not stop the elders who are young at heart from having a wonderful time. They paraded for the crowning of the Avurudu Kumaraya and Kumariya, put on blindfolds to dot the eye on the elephant, carried the lime on a spoon, played raban, participated in Kanamuttiya and also danced the baila!
This was all part of the annual NFOA (NGO Forum on Ageing) held the Sinhala and Tamil New Year celebrations on April 22 at the Subud House for members of about fifteen Elders' Homes.
The NGO Forum on Ageing was launched by the Sri Lanka Women's Conference in the International Year of the Older Persons 1999. President of NFOA, Reggie De Zoysa said the Forum already has sround 150 members and with further support and funding they can work to give elders better facilities. Committee member, Rohini Fernando said that they don't get enough funding. "Imagine having to live in an elders' home after living all your life freely and independently. The elders in elders' homes need some sort of an entertainment. That's where we have been helping in putting together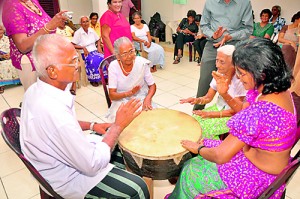 such events to keep them lighthearted." Immediate Past President, Estelle Joachim told us that she is involved in six other organisations but the one she mostly works for is the NFOA, because they need greater support.
The NFOA committee comprises Reggie De Zoysa, Devika Nanayakkara, Janaki Fernando, Manel Abeysekara, Estelle Joachim, Ira Goonathilleke, Chitra Tillekeratne, Mazaya Samath, Carol Nicolle, Rohini Fernando, Jonathan V. Thamber, Cressida Senanayake, Mallika Samarakoon, Mano Candappa, Padma Mendis, Thavarani S, Patrick Amarasinghe and Percy Abeysekara.