Giving back to her school the way she knows best
Kishani Jayasinghe back on stage at Visakha Vidyalaya to perform 'On the Lighter Side'
View(s):
Kishani Jayasinghe will return next Sunday (May 11) to the place she loves best; onstage, under the spotlight and performing for an audience she holds dear to her heart. With this show comes a hint of the nostalgia for she will be singing on the invitation of her alma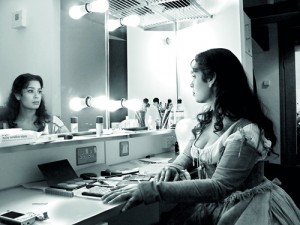 mater Visakha Vidyalaya, returning to Colombo after a hiatus of almost four months for 'Kishani sings for Visakha, On the Lighter Side'.
The soprano is certainly one of the school's most musically gifted luminaries; based in the UK, Kishani has found both commercial and critical success in the opera circuit. Hers is a story that has been told many times, yet one never tires of hearing how the young girl who went abroad to study law would go on to win a prestigious scholarship from the Royal Academy of Music, eventually making her debut at Covent Garden. To date she has taken on many a leading role, including Cleopatra in Handel's Giulio Cesare, the Countess in Mozart's The Marriage of Figaro, Mimi in Puccini's La Bohème and Violetta in Verdi's La Traviata. She returns to Sri Lanka after a lengthy tour of Scotland with the Royal Scottish National Orchestra and a couple of recitals in London.
After the show, Kishani will return to London for her regular training and work. Rehearsals will soon begin for her role as Violetta in Verdi's La Traviata for Glyndebourne on Tour for a period of three and a half months. Immediately on the heels of Glyndebourne, she begins rehearsals for Leila in Bizet's Pearl Fishers in Holland for a further three months.
It's a maddeningly hectic schedule and these visits home are often the only breathing space she gets but Kishani is honoured to perform on behalf of her alma mater. "I'm passionate about giving back to the place that unconditionally gave me so much," she tells us over an email interview. When she received the invitation from the Visakha Vidyalaya Old Girls Association she was thrilled; "for me the most heartfelt project of all is to be able to sing for my alma mater," she says. Visakha was her stamping ground as a young girl

and during her 13 years in school she developed into an all-rounder with a dauntingly impressive number of accomplishments in her repertoire including many accolades for drama, dancing, debating and sports…the list goes on. "Of course music was one of those things," she adds. "Being a professional musician was never even on the horizon at that time, but music was never too far away from my life even then." She was leader of all three school choirs (Primary, Junior and Senior), was named Sri Lanka's Young Musician of the Year; and naturally "did umpteen vocal performances in and out of school."
This show will live up to its title, she promises. "I took a lot of time and trouble to prepare a programme for this concert which will encompass a wide variety of styles and genres." The show will, naturally, have a segment for opera but the focus will be on the lighter end of music, with sections from popular musicals and old favourites from the cinema included in the list. The soprano will be accompanied by what she likes to call 'my Super S-Team'- Soundarie David-Rodrigo on piano, Sureka Amerasinghe on the flute, Satish Casie Chetty on the Violin and Shamistha De Silva on Cello. Lighting for the show will be handled by Jerome De Silva, with Akhry Ameer as Stage Manager. The show will be compered by Arun Dias Bandaranaike.
"Kishani sings for Visakha, On the Lighter Side' organised by the Visakha Vidyalaya Old Girls' Association will take place on May 11 from 7 p.m. (sharp) at the Jeremias Dias Hall, Visakha Vidyalaya. All proceeds from the show will be utilised for the school's new Aesthetic Studies building. Tickets for the show will be available at the school gate till 8 p.m. on the days leading to the show.