Theatre can make a change ; Shyam Fernando
Without joining the popular rat race a number of playwrights stick to theatre with a vision
View(s):
The winner of Best Actor at the recently held State Drama Festival-2014 for his performance in Rajitha Dissanayake's latest play 'Adara Wasthuwa', Shyam Fernando has been presented with the top award. At the end it was a long way which he came through hard work, self learning and sheer determination. Considering the award an achievement for the drama he played as it would give more recognition and demand for additional shows rather than an ornament for personal glory, Shyam is in a firm conviction that stars and role models for today's society can be made not only through glamourous cinema and widely enticed television but even through the stage where at least a few artistes firmly stick for the sake of art and its higher goals.
Hailing from Joseph Vaz College Wennappuwa and influenced by his father who was a musician and music teacher, Shyam now a qualified teacher at Pamunugama Central College where he teaches English and theatre and drama in addition to being an actor. Already he has played a main role in Prasanna Vithanage's 'Oba Nethuwa Oba Ekka' which has achieved even international acclaim Shyam has also played in two more movies which are yet to be released.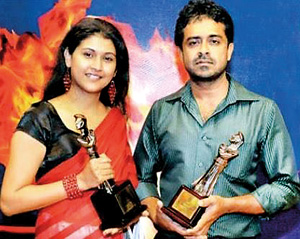 Ever positive about a good social ground for quality works of art, Shyam shared his thoughts about the present state of the Sri Lankan theatre, art and cinema and shared with the TV Times the major obstacles faced by the artistes specially involved in the theatre.
Q: How did your entry to the arts come about?
It all started with Play House Kotte, started by Ms Somalatha Subasinghe veteran actress and playwright. I joined their children's productions like 'Thoppi Welenda', 'Hima Kumari', 'Walas Pawula' and others and from there I was selected by Rajitha Dissanayake who had seen me on the stage and invited to play in his 'Veeraya Marila'. While I learnt a lot about acting, production from Playhouse Kotte, working with Rajitha and members of his theatre group taught me many lessons on acting and the theatre.
Q: Though you got your acting basics from Playhouse Kotte, your award winning acting career has been mainly from self learning. Wasn't this a challenging task?
Yes. It would have been great if you can learn from the university or acting schools like you have in Indian National School of Drama or what you have in any other countries. Unfortunately we learn through sheer self-study, reading and specially through some of those actors who had made a name. However this is the system we have and fortunately we learn from our own contemporary actors and actresses.
Q: Who are the great heroes that influenced your theatre career most?
There are a number of them. One such actor that influenced me most was Peter D'Almeida who proved with his few roles that it is not the number but the quality that carries you a long way. He has proved that an actor could build a strong image while being limited only to quality works of art.
In addition I also have learnt from my peers like Dayadewa Edirisinghe, Prasad Suriyarachchi, Dharmapriya Dias, Gihan Fernando, Jayani Senanayake from whom I have learnt great lessons on acting and art.
Q; Many artistes use stage as a bridge to get on to Television or cinema which has more glamour and popularity. Now that you are a cinema actor as well how do you see this trend?
Theatre and cinema are two different medium of arts. They have their own strengths. We train at least for six months for a play and perform within two hours while in a cinema we work for more than a month continually. There is a lot of technology involved in cinema and you have to have a knowledge on that. Since there is much glamour involved in television or cinema can be more attractive but personally I enjoy working in the theatre greatly. However there are a few people who stick to the stage with a vision and a mission. For example I am sure a director like Rajitha Dissanayake can make a teledrama or film easily but he has a purpose and there are others who share the same vision. We are sure this would influence many in a younger generation who are going to take up a similar mission and make a change and be a change.
Q; What is the most immediate need to support the theatre?
More theatres at least with basic facilities in major towns. Lack of theatres even with a proper toilet or washing room for the cast and the crew and proper seating, viewing and sound facilities for audiecne are major problems. Just like a cricket likes to play in a good pitch and ground, a playwright and other artistes would like to perform in a good theatre.