Ceylon Theatre celebrates Earth Hour with latest Spiderman
View(s):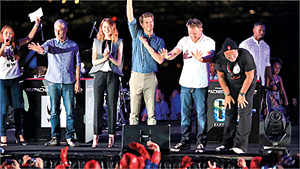 The upcoming 'Amazing spider man' has been the official superhero for earth hour and was celebrated by Ceylon Theatres, importers of the movie to Sri Lanka. The film is slated to be released on  the Majestic Cineplex from May 2. On March 29, Ceylon Theatre team took the initial step to promote the movie by creating the earth hour's logo '60+' with lamps at Majestic Cineplex premises.
Meanwhile the cast of the movie flew into Singapore along with a host of international media to launch Earth Hour 2014 last week making the local fans crazy about them. Thousands crammed the Earth Hour event at Marina Bay in central Singapore to watch the lights go out, and for a taste of Hollywood, as Andrew Garfield (Spider-Man), Emma Stone (Gwen Stacey), Jamie Fox (Electro) and director Marc Webb took to the stage to whip the gathered crowd into a frenzy for the cameras.
The visiting Asia, Spider man star Garfield has told media that the E
arth Hour partnership was a natural fit for Spider-Man, and was overwhelmed at the level of excitement of the local fans.