Bountiful returns
By Vinusha Paulraj
Hoping to empower small-time paddy cultivators, a young entrepreneur's venture - 'Rural Returns' is helping farmers get the best possible price for their produce
View(s):
Longing to make a discernible change, Charitha Rattwatte set out to take on the challenges faced by paddy farmers through his venture – Rural Returns.
"I came up with the concept while studying in California" says, Charitha who graduating with honours from the Manchester Metropolitan University UK in 2002 , left to do study for his MBA at the University of Stanford where the idea of Rural Returns was born.
With the support of the Social Innovation Fellowship set-up by the University of Stanford, Charitha managed to tender a convincing application and received the capital to set up Rural Returns. On completing his MBA in 2009 the 35-year-old came back to Sri Lanka, all set to breathe life into the pages to which his ideas were confined.
Charitha explains that the entire process of producing rice is so fragmented that the value chain brings very little back to the farmers, which is what prompted him to set up 'Rural Returns'.
With inevitable monopolies in the trade he points out that the disadvantaged out of the lot were the farmers who produce on a small scale, varieties of rice not commercially produced. By no means suggesting that "it's as straightforward as cutting the middle man" Charitha shares that this is more of a means of empowering farmers. Noting that all 25 districts grow paddy, but only five produce mass amounts of commercially grown varieties of rice he says "naturally these small time farmers can't get the kind of prices they expect." Going into paddy cultivating villages, Rural Returns agrees to buy from farmers at the highest possible price and "takes the full financial risk of not being able to sell." Not promising the farmers anything, Rural Returns merely extends the opportunity for farmers to work with them. Being selective about who they work with, Charitha fosters the hope that their system would be a mechanism where the reward will reflect the quality of a farmer's produce.
Despite the profitability and practicality of owing a small scale paddy land being questionable Rural Returns found that farmers are restricted by law when it comes to selling or leaving it uncultivated. Some had to cultivate even a small amount for social reasons. Charitha recalls one family who cultivated only because their father refused to eat any other rice, except that which was produced in the family field.
Growing paddy requires co-ordination between farmers, "Even if they hate each other, they will have to sow, harvest and irrigate their fields together, " says Charitha. Using this to their advantage Rural Returns encourages farmers to work together to be able to produce a significant amount of rice. This is just one strategy used by Rural Returns to tackle the scale problem which Charitha is convinced plays a big part in getting a higher price.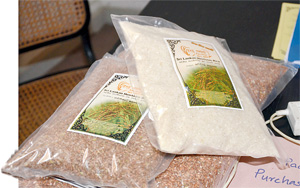 Charitha explains that the brand of Sri Lankan Heirloom Rice called "Ayu" is even packed in the villages where most of the revenue is designed to stay.
On paper, banks should have loans for these farmers and every farmer belongs to a co-operative but in practice it's not the case, which is why Charitha and his team of 3 full-time employees and some part time field workers are building towards breaking down monopolies and empowering farmers to have a bigger say and hopefully bigger returns.
Happy to note that "it is working," he shares that more farmers after watching and hearing from their peers are interested to be a part of Rural Returns and the company which started off in November 2009 has been self-funded since. Hoping to expand his battle against the biased returns Charitha aspires to go in to other crops as well.
To learn more log onto www.facebook.com/RuralReturnsLtd and www.facebook.com/TheAyuExperience or ruralreturns.org