Inter-School Drama Competition 2014
View(s):

Inter-School Drama Competition, organised by the Interact Club of Royal College will be held on the 9th April 2014 from 9.00am. The participating school teams take it in turn to step onto the stage at the Lionel Wendt theatre to present their entry at one of the most anticipated English drama competition in Sri Lanka – known simply by students as 'Drama Comp'.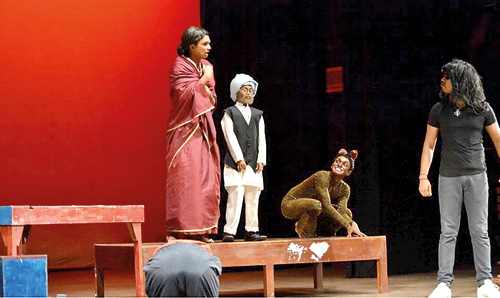 The Inter-School Drama Competition is now in its 28th version and presented by the Interact Club of Royal College. Audiences and school supporters are welcome to watch young actors present a varied genre of theatre – from own scripts to well loved playlets, from comedies to high drama. At the "Semi's" on the 9th April – the actors and crew will stretch themselves to be one of four chosen to "make it to the Finals" by a panel of judges comprising well respected theatre professionals, some of who have walked the Boards at earlier editions of the "Drama Comp"!
Last year, Ananda College won the competition with "Alice in Wonderland", an original script with a humorous take on international relations and politics. Methodist College was First Runner Up with Ladies College coming in as Second Runner Up both doing excellent performance.
While, the schools that entered the competition In January this year have been busy rehearsing over the last 3 months – a group of eighteen Interactors of Royal College have been quietly working hard behind the scenes in managing and staging the event – so that not just the actors can discover their talent but the theatre loving public can enjoy an entertaining evening.
The Finals will be held at 6.30 pm on the 30th of April at the Lionel Wendt. Do join us on the 9th and the 30th of April.