Randev bounces back into the lead
35th Bata-the Sunday Times Most Popular Schoolboy Cricketer of the Year 2014
View(s):
Randev Pathirana of Royal College Colombo has done it again. Randev who lost his top spot of the All-Island contest of the 35th Bata-the Sunday Times Most Popular Schoolboy Cricketer of the Year 2014
a fortnight ago has regained his position in style with a staggering count of 3526 votes in the concluded week. This takes his tally to 8984, 713 votes ahead of Lahiru Wickramasinghe of De Mazenod College Kandana.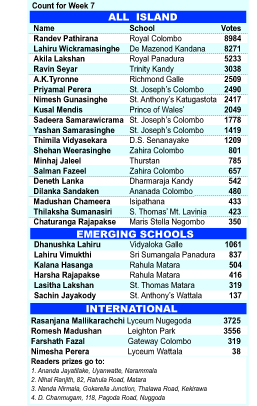 Lahiru who toppled Randev last weekend sits back at the second spot with a tally of 8271 votes despite adding 1667 votes in the concluded week. Akila Lakshan of Royal College Panadura who led the first couple of weeks experienced a dull week as he remains at third with a tally of 5233 votes. Lakshan managed to add a meager count of six votes during the concluded week and sits far behind the top two. He is 3038 votes behind Lahiru and further 3751 votes behind the leader Randev.
Others in the race, Ravin Sayer of Trinity College Kandy, A.K. Tyronne of Richmond College Galle, Primal Perera of St. Joseph's College Colombo, Nimesh Gunasinghe of St. Anthony's College Katugastota, Kusal Mendis of Prince of Wales' College Moratuwa, Sadeera Samarawickrama and Yashan Samarasinghe of St. Joseph's College Colombo, remain one after another in the top ten.
Danushka Lahiru of Vidyaloka Vidyalaya Galle continues maintain his stronghold in the Emerging Schools segment for the seventh consecutive week. Lahiru's progress slowed down a bit in the past two weeks but after adding on 185 votes to his tally he managed further to stretch his lead by 224 votes from second seed Lahiru Vimukthi of Sri Sumangala College Panadura. The remaining contenders continue to hold their positions unchanged respectively as last week.
In the International Schools category the top position shifted hands for the sixth consecutive week. Once more Rasanjana Mallikarachchi of Lyceum International Nugegoda gained back his place as the leader after adding 582 votes during the week. Last week he lost his place to Romesh Madushan of Leighton Park International but with his tally moving up to 3725, Rasanjana stays ahead of Romesh by 169 votes. But the battle between Rasanjana and Romesh promises for the top spot is likely to continue for weeks to come.
Coupons of the 35th Bata-the Sunday Times Most Popular Schoolboy Cricketer of the Year 2014 will appear on Wijeya Newspaper's dailies, the Daily Mirror and Lankadeepa and also its weekend English issue, the Sunday Times. Readers will be able to send in as much as coupons in favour of their favourite schoolboy cricketer until end of May.