Dharmaraja outclass DSS by innings
By M. Shamil Amit
Under 19 Cricket
View(s):
Dharmaraja College Kandy outclassed D.S. Senanayake College in their own den by an innings and 13 runs in their Under 19 inter-school cricket encounter concluded at Wijerama Mawatha yesterday.
The foundation for their win was laid by Ramesh Ranasinghe who cracked a 120 helping his side taking first lease of the wicket make a formidable score of 278 on day one while DSS ended the day on 34 for 1.
DSS resuming from their overnight score was struggling on 122 for 5 at the end of the first session of play. Though they made a score of 155 it was insufficient in preventing the Rajans make them bat again.
DSS made to follow on with a deficit of 119 runs put up a pathetic batting performance as they succumbed to Wenuka Galahitiyawa again and collapsed to a score of 106.
Wenuka who had a four wicket haul in the first inning followed it up with another five to end up with a match bag of nine wickets while Deneth Lanka finished with a match haul of six wickets.
Half tons by Fabian Fernando and Yashan Samarasinghe helped St Joseph's resuming from their overnight score of 71 for 2 to make a formidable score of 256 for 6 declared on day two in reply to St Benedict's score of 134 in the Under 19 inter-school cricket match played at Kotahena.
Fabian in particular was in menacing form as he made an unbeaten 73 in just 35 balls which included three boundaries and seven towering sixes while Yashan made 61 with five boundaries and two sixes.
Moratu MV had to be satisfied with a first innings against Wesley at Moratuwa. Moratu MV in reply to Wesley's 164 went onto make a score of 206 with Shanuka Madushan making a top score of 54.
The highlight of the second day's play was a swashbuckling knock of 164 in 163 balls inclusive of 21 boundaries and five sixes by Wesley's Sachin Jayawardena.
St Sebastian's overcame S. Thomas' in the first innings in the match played at Mt Lavinia. St Sebastian's in reply to the Thomians score of 222 made 271 thanks to half tons by Luke Jayadeva and Sachintha Fonseka.
St Mary's Kegalle recorded a win over Piliyandala Central at Piliyandala while St John's Jaffna coasted to an innings and three runs win over St Patrick Jaffna in the match which ended in Jaffna yesterday.
At Wijerama Mawatha
Dharmaraja 274 (Ramesh Ranasinghe 120, Kavishka Dissanayake 34, Chandimal de Silva 31: Shifran Muthaliph 5 for 65, Akeel Inham 2 for 10)
DSS (34/1 overnight) 155 (Shifran Muthaliph 46, Akeel Inham 34: Deneth Lanka 4 for 40, Wenuka Galahitiyawa 4 for 60) and 106 (Torrin Pitigala 32, Uvin Bandara 25: Wenuka Galahitiyawa 5 for 58, Ruchira Pupulewatte 2 for 14, Deneth Lanka 2 for 25)
At Kotahena
St Benedict's 134 (Nimesh Fonseka 25, Mahel Jayalath 24, Geethika Jayatilleke 22 n.o.: Fabian Fernando 3 for 18, Hashendra Perera 3 for 30, Aravinda Akurugoda 3 for 31) and 136 for 8 (Thulina Dilshan 31, Janindu Karunatilleke 29: Hashindra Perera 5 for 48)
St Josephs (71/2 overnight) 256 for 6 declared (Yashan Samarasinghe 61, Kalpa Ravihara 37, Pathum Madusanka 32, Duran de Alwis 20, Fabian Fernando 73 n.o.: Navod Abeysinghe 3 for 44, Sithum Wijesinghe 2 for 55)
At Moratuwa
Wesley 164 (Amayuru Kaluarachchi 37, Andrew Parais 30, Sachin Jayawardena 24, Shanon Jebeseelan 20: Shanaka Roshan 4 for 28, Uditha Harshana 2 for 24) and 228 for 9 (Tharindu Karunaratne 20, Shanon Jebeseelan 16, Sachin Jayawardena 164 n.o.: Harsha Devinda 4 for 66, Shanaka Roshan 2 for 51)
Moratu MV (132/4 overnight) 206 (Shanuka Madushan 54, Sanesh Champaka 36, Saminda Maduranga 36, Thilan Kavishka 20, Dushan Sulakshana 17, Nipun Randika 16: Charith de Silva 5 for 36, Jonathan Caderamanpulle 3 for 50)
At Mt Lavinia
S. Thomas' 222 (Sachitha Jayatilleke 54, Rashmika Opatha 42, Madushan Ravichandrakumar 27, Chenutha Wickramasinghe 27, Tharindu Ratnayake 22: Lahiru Heshan 4 for 63, Sangeeth Cooray 2 for 44) and 112 for 3 (Rashmika Opatha 57, Madushan Ravichandrakumar 23, Sanesh de Mel 20 n.o.: Isuru Mendis 2 for 33)
St Sebastian's (106/3 overnight) 271(Luke Jayadeva 61, Kusal Lakthilina 46, Muditha Fernando 38, Avishka Fernando 23, Sachintha Fonseka 54 n.o.: Madushan Ravichandrakumar 4 for 53, Aftab Cader 3 for 32, Tharindu Ratnayake 2 for 53)
At Piliyandala – St Mary's Kegalle beat Piliyandala Central by six wickets
Piliyandala Central 163 (Sasith Oshajith 51, Dasun Vimukthi 33, K. Anuk 24: Thimira Kumara 4 for 41, Malith Hewavitharana 2 for 33, Isuru Wijeratne 2 for 34) and 129 (Harshana Gomes 48, K. Anuj 21: Thimira Kumara 5 for 30, Malith Hewavitharana 4 for 46)St Mary's Kegalle 240 for 9 declared (Hansaka Diluksha 74, Nuraj Ratnayake 58, Chamika Senaratne 46, Viraj Gunatileke 38: Wasith Vimukthi 5 for 78, Yashan Vimukthi 2 for 44) and 53 for 6 (Hansaka Diluksha 20: Gimhana Dhanushka 2 for 4, Wasith Vimukthi 2 for 26)
At Anuradhapura
Carey 76 (Kasun Weeranga 3 for 16, Jagath Sandaruwan 3 for 22) and 243 (Tharaka Dhananjaya 107, Shehan Nanayakkara 44: Sandeep Nisansala 4 for 44, Jagath Sandaruwan 3 for 43)
Anuradhapura Central 166 (Kasun Weeranga 72, Ajith Sandaruwan 25: Ravindu Lakmal 6 for 55)
At Jaffna – St John's beat St Patrick's by innings and three runs
St John's Jaffna 207 (Mahalingham Nilojan 43, Paramanantham Thuvarakaseelan 36, Arulalantham Gnanamirthan 34, Sebamalapillai Jeni Flemin 49 n.o.: A. Jericson 3 for 37, F. Clinton 2 for 37, S. Kapilan 2 for 40)
St Patrick's Jaffna 84 (A. Subenesan 18, F. Clinton 16: Mahalingham Nilojan 5 for 27, Raviendran Lohathieswar 3 for 21) and 120 (A. Subenesan 26, C. Daniel 15: Mahalingham Nilojan 4 for 25, Arulalanantham Gnanamirthan 3 for 22)
At Galle
St Servatius Matara 187 (Ashen Deemantha 39: Chathuranga Kumara 4 for 32)
St Aloysius Galle 27 for 4
At Kandy
Royal rout Lions in their own den
Royal pulled off a magnificent 130 run win over hitherto unbeaten Trinity in an absorbing contest between two good teams at the Asgiriya Stadium.
Above all else, Royal deserve kudos for the spirit in which they played. Depriving a batsman of a hundred might sound a bit harsh. But the lesson was dimmed in that team mattered more than the individual.
They also threw the game open by asking Trinity to make 268 in two sessions. Perhaps they had accurately gauged the strength of this Trinity side.
Opener Shaminda Dias batted beautifully for his unbeaten 99.
Raveen Sayer captured his 100th wicket, but his match figures were an expensive 8-180. Ran Chandragupta impressed with a blazing unbeaten 80 in his teams total of 138.
Royal 179 and 49-1 contd. 193-5 dec in 55 overs (Shaminda Dias 99 n.o, Harsha Samarasinghe 22, Yashika Yasawardena 14, Randiv Pathirana 14, Chamika Karunaratne 15 n.o. Raveen Sayer 4-101)
Trinity 106 and 138 in 27.3 overs (Ron Chandragupta 80 n.o, Devin Pathmanathan 5-27, Randev Pathirana 3-55.)
Sylvestrians indulge in batting overkill
Not satisfied with a first day total of 314-9, the Sylvestrians indulged in a batting overkill. These tactics boomeranged on them when they found that they had too many runs in hand and not enough time to get the last wicket. Thus, the St Sylvester's – Joseph Vaz match at the Rangiri Dambulla Stadium ended in a no decision.
Skipper Shehan Fernando, a quality left hander, faced 235 balls and hit 11 tours in his 112, Spinners Pabasara Perera and Nimesha Mendis bagged 3 wickets each.
St. Sylvester's 314-9 contd. 356 in 118 overs (Sivakumar Tyron 51 n.o)
Joseph Vaz 243-9 in 83 overs (Shehan Fernando 112, Janapriya Fernando 35, Madushanka Kumara 31, Tharindu Deemantha 20, Pabasara Perera 3-32, Nimesha Mendis 3-61, Sumedha Dissanaike 2-47.) – A.K
Nisansala, ST-Bata pick of the week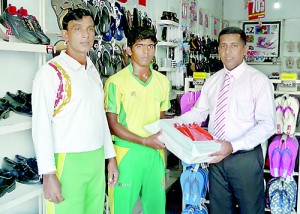 Sandeep Nisansala of Anuradhapura Central College, who was named the Bata-the Sunday Times Pick of the Week in the second week of January received his prize last week at the Bata Anuradhapura showroom. Nisansala was picked for his brilliant knock of 126 against Devapathiraja Maha Vidyalaya Rathgama which came off just 72 deliveries. District Manager for the Bata M.K. G. Susantha Kumara Gamage (left) presented the award to Nisansala (centre) with the presence of his coach Keerthi Gunaratne (right).