Veteran artist gets set for exhibition of exhibitions
By Tharooshie Mahahewage
View(s):
Renowned artist S.H.Sarath is preparing for his next exhibition, out of more than a hundred he has done so far. "The Maha Valli Exhibition of paintings" as he calls it will take place at Lionel Wendt on January 21 and 22 and will be on from 9 a.m. till 9 p.m. The opening ceremony will be on January 20 at 6 p.m.
Mr. Sarath is the art director of the 'Kavita' programme conducted by the Ministry of Higher Education. He started drawing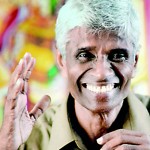 professionally in 1968 and the exhibition will showcase some of his art even from '78. He likes to base his art around social problems, with a religious or cultural twist in it. One of his paintings shows God "Gana" (Gana devi) refusing to eat the pooja fruits that devotees offer because the fruits have artificial fertiliser and other chemicals in them. Another of his paintings depicts society consuming a sour herbal medicine (Kasaya) made out of five ingredients (Pas panguwa) – light bills, water bills, telephone bills, milk powder and gas.
"I believe that an artist must give a message to society in a subtle way to affect a person's mind. An artist's weapon is his paintbrush and it is his right and discretion to use it as he likes. Art should be developed and sharpened from time to time. In the 70's and 80's art had stature in society but now people are too busy to go to a gallery and enjoy an exhibition," he says with some regret.
Mr. Sarath was born in Thalaramba in Weligama and first studied at the Weligama Siddhartha Maha Vidyalaya and later at Weligama Sri Sumangala Maha Vidyalaya. He has received many international scholarships including one from the UNESCO and also from the South Australia School of Art. His many honorary assignments include designing the flag of the Western Provincial Council in 1993, and the four storey mural at the National Library complex. Mr. Sarath has also been a visiting lecturer at the Faculty of Education in the University of Colombo.
In 1984, after selling a painting to a local leading bank, he said he went home in his first car. "That's how much value there was in money and in art back then," he says with a distant look. Back home he did another painting depicting God "Murugan" (Katharagama god) requesting a '13- SRI' peacock as his vehicle. One of his other paintings, "Rubber Tree" was sold to the Koggala Beach Hotel in 1985 for Rs. 100,000. "It was one of the first few of my paintings to get sold for a large amount like that."
Speaking about the future of art in Sri Lanka, Mr. Sarath believes the best way to ensure a good future in art is by encouraging and supporting the younger generation. "We have a talented younger generation of artists but the sad thing is that we don't have a gallery to show our art. When tourists come to any country, the first two places that they would like to visit are a museum and an art gallery but in our country we don't have a proper gallery to exhibit the many talents of our artists both young and old."