Meet the artists, appraise their works: An invitation to Kala Pola
By Vinusha Paulraj
View(s):
"I went to Trinity College-the best school in Kandy," says artist Amaresh Pereira proudly, "but when I decided to follow art further, I even lost my best friend." Living with this frustration of not being accepted he says, "the George Keyt Foundation is where I felt truly at home and valued." He describes the Kala Pola exhibition that the George Keyt Foundation and CSR programme of the John Keells Group present as being "A happy retreat for artists where people can enjoy and critique their art."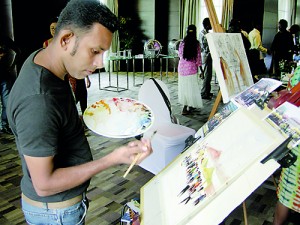 "It's not just an exhibition" says Amaresh of Kala Pola , "It's more like a celebration of art where artists get to meet old friends and make room for new." While Kala Pola has flowered into the large scale exhibition we see today, it started out in 1993 with "Just 35 artists and has grown almost tenfold today," according to Chairman of the George Keyt Foundation Cedric De Silva.
Senior artist Jagath Ravindra was lucky enough to be among the first 35 exhibitors and still continues to show his work at Kala Pola. "I understand that visual art alone or paintings may not have the same entertainment factor like music or dancing and most people don't really know how to appreciate it," he observes. Kala Pola according to him is not merely an exhibition because "It exposes people to art and artists to people" teaching them slowly to learn to value art and the effort behind it as they would when they see a song being performed or a dance.
Given the prominence Kala Pola has achieved in Colombo's calendar it's easy to think that "Artists paint a few pictures with the objective of selling them at the exhibition," Jagath notes, "But this is not true, because artists now appreciate Kala Pola as a growing experience for them" just as much as people learn to appreciate their work.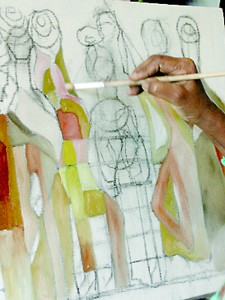 An artist from the Eastern University, R. Pragash has been showing his work at Kala Pola for the past five years. "In the stalls at Kala Pola when you see a painting you don't know who created it" he says. "It really could be anyone! Tamil, Muslim, Hindu, Buddhist, man or woman," is what he sees as the magic of Kala Pola. While allowing potential buyers to talk to the artists and learn more about them, who produced the picture is never an issue. "This time art graduates from the north and east will also take part," he disclosed.
Just like any other art form, artists too need to be critiqued to grow and Amaresh encourages you to "Just talk to the artists, ask them what they were thinking or how they came up with the picture."
The Kala Pola will be held on January 26 from 8 a.m. to 10 p.m. at the boulevard from Nelum Pokuna