Heal the scars of a night of horror
Hansika Hirukumari who was burnt at a thovil ceremony two years ago, now has the opportunity to go to France to undergo plastic surgery free of charge. But the family is unable to afford the accomodation there. Kumudini Hettiarachchi reports
View(s):
It was quite a normal occurrence in their village of Kadirapura, close to Dehiattakandiya in the Ampara district. A thovil ceremony was to be held at a house about a kilometre away to rid the spirits allegedly possessing two of their relatives, a man and a woman.
The inveterate curiosity innate in many a Sri Lankan 'possessed' the family of 57-year-old G.P. Jayaweera and wife Chandrani Senarath, 50. Not only did the couple go that evening for the night-long thovil ceremony, but they also took their little minibiri (granddaughter), Hansika Hirukumari, who was around seven-years-old at that time.
Hansika was their 'ward' for her mother and their Loku Duwa, Nilanka Chamari, was prone to illness and her father, N.M. Duminda Kumara, was in Lebanon, toiling as a labourer for a company there to provide a better life for his family.
The thovil ceremony with a woman-Gurunnase and her golaya began with all its rituals. Yakek wehila dishtiyak thibba, says Jayaweera explaining that the couple had been possessed by the devil and were being manipulated by it.
Close to midnight, as the Gurunnase was making ready to 'dehi kappana' all hell broke loose, according to Jayaweera, with the Gurunnanse and her golaya making good their escape. The so-called possessed woman had lit a huge fire in the garden claiming that the 'possessed' man was growing cold and close to death, forced all the relatives into the house, locked the door and brandishing a knife selectively taken out Jayaweera's younger daughter as well as Hansika. While their daughter escaped with some burns, to a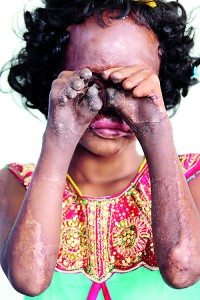 neighbouring home, the little girl had been forced to the ground near the fire by the 'possessed' man who sat on her and burnt her from head to toe with a gini pelella (fire brand).
This was in November 2012 and it was on January 3, this year, that grandfather, grandmother and severely burnt but recovered granddaughter walked into the Sunday Times office to seek help from the public.
Directed to us by a person who got public assistance through a Sunday Times story when she was desperate to feed, clothe and buy medicine for her family, Jayaweera relives the trauma of that fateful November night when their lives changed forever.
Hansika was beautiful and had long black hair before that incident, sighs Chandrani.
To any onlooker, it is evident how agonizing and horrific the burns would have been. That November night of horror had played out its tragedy only after Jayaweera's daughter had called the police, who had let out the captives under house arrest and rushed the little girl to the Dehiattakandiya Hospital, while taking into custody the couple.
Transferred to the Polonnaruwa Hospital and then onto the National Hospital in Colombo and the Lady Ridgeway Hospital for Children in Colombo, the recovery for this little girl had taken as long as four months.
Now it is a different phase that this humble family is looking at – plastic surgery to restore a semblance of normalcy to the face and body of this once-pretty little girl, distorted, withered and shrivelled now due to the cruel hand of fate.
While the National Hospital's Plastic Surgery Unit is doing its utmost for Hansika, there is a silver lining in the dark clouds surrounding this family in the form of an offer for plastic surgery free-of-charge at a hospital in France.
The opportunity had arisen when Hansika's distraught father who spent many months at the little one's bedside, went back to work in Lebanon with a heavy heart and showed his employer photographs of her state.
His boss had immediately contacted his sister, who is a Dermatologist in France and they have come up with an offer to treat Hansika, says Jayaweera.
Hansika's grandparents are only too willing to sell their property to supplement Duminda's hard-earned savings to fund the journey of hope and recovery to France for the little girl and her parents. This is while they are even finding it difficult to eke out a living as Jayaweera is unable to do his masonry work as he has to bring Hansika for plastic surgery to Colombo.
However, with the plastic surgery in France taking about six months, they are looking for help in the form of accommodation for this family close to the hospital at Nice where treatment would be carried out.
This is estimated to cost close to Rs. 2 million which this humble family cannot afford even in their wildest dreams.
You could help
Hope tinged with despair is what Hansika's family is facing.
Plastic surgery free of charge in France — but no place to stay and no money to fund their stay there
Please find Hansika's family a place to stay close to the hospital, is the earnest and anguished plea of her grandfather.
Any generous donor who wishes to help Hansika may send his/her contributions to Account No. 0290 34314203101 at the Seylan Bank, Dehiattakandiya branch in the name of Galappathige Jayaweera (grandfather).
The offer of accomodation during the treatment in Nice during the treatment would be a great favour the family would never forget.
Jayaweera may be contacted on Mobile: 0771350005.