Unforgettable math time with Roy Muthaya's infallible Sinhala
By Podinilame (DMP)Dissanayake
View(s):
It was 1965, our first year in upper school of Trinity College Kandy. Vice Principal G.Y. Sahayam, waving his long cane, carefully allocated us seats in alphabetical order in the college hall, for morning assembly. The seats, thus allocated for raw juniors were in the last few rows of the balcony, almost touching the ceiling. From this vantage point, we could barely hear announcements from the stage, though our young eyes could catch a good glimpse of the speaker. Needless to say, most of us did not comprehend much from the barely audible speeches that wafted to the back rows.
Many teachers delivered speeches as part of the morning assembly ritual. Among them, there was one whose speeches drew uncontrollable laughter from the audience.  This speaker was of course Roy Muthaya (RM), who rolled to the front of the stage with ease and went about his task with great aplomb. Short, dark in complexion, he wore a thick moustache and had a deep voice that reached even the ceiling level back rows of the balcony.  During those formative years we could only gaze at the hall below us in bewilderment at those who were roaring with laughter. Occasionally we managed to catch some new words; "sue", "apartheid" etc.
Progressing to senior houses in Grade 8 and being allocated more respectable seats in the assembly hall, we were tested for bearing up boring speeches and responding heartily to the interesting ones.
RM was the most preferred speaker; his forte being, excellent presentation of the carefully selected topic, through humour, wit and candour.
In 1968, at the beginning of the school year of Grade 9, having qualified to follow mathematics for GCE (O'L) we were enthusiastically gathered at the new class room, when RM entered the scene. Someone remarked that he had turned up to teach us "special Tamil," the third language in the curriculum! (Mr Muthaya is a Tamil; third language is a compulsory subject at TCK)
But his debut caught everyone by surprise.  "I am your math master," proclaimed RM, in perfect Sinhala. This was the era of strict adherence to "swabhasha" where a student of either Sinhala or Tamil parentage was to have the medium of instruction accordingly. There were neither exceptions nor waivers.
The math class had mathematics in all forms: Pure math, Advanced math and Applied math. Pure math included Arithmetic, Algebra and Geometry and advanced math included, Trigonometry, Calculus and coordinate geometry.  The prescribed Sinhala terminology for math concepts appeared to be intimidating to many students, surprisingly, not for RM. He explained Newton's laws and clarified "Vibhava" and "Chalaka shakthiya", "guruthvaja thvaranaya" etc. in the same manner and ease as Mr. Chandrasiri would explain "dvi ghathanathmaka bhahuthika vadaya" (dialectical materialism) of Marx and Engels in Sinhala language classes! Except for mere casual mispronunciations, RM's Sinhala was by and large infallible. The notable exceptions as I remember were his pronunciation of "ananthaya" (infinitive) as "anathaya" (destitute) and "paha" (five) as "pa-her". The latter was of course amusing to the naughty ones who suppressed their giggles out of respect to the celebrity teacher.
It was a blessing to have the arid and arduous math time spent with him, for he brought his hallmark traits to the classroom too; humour, wit and candour.  The class was full, many spots filled with repeaters, rioters and rotters. RM's modus operandi was such, he never resorted to disciplinary action nor did he send students "on-report" to meet up with "Sagesh" fortnightly (where multiple reporting would be subjected to caning by Mr. Sahayam; number of "cuts" depending on the no of reporting!!). RM's assignment of home work was in chapters, working out the difficult sums on board, in class.
RM implemented the 'swabhasha" policy to the letter, avoiding "Singlish" at all costs. The basic Trigonometric ratios Sine, Cosine, Tangent etc had to be written in Sinhala and sums worked out otherwise had to be reworded to Sinhala. This is despite, the dreaded Theodore Silva (AKA "toughi"), a renowned Sinhala math master, allowing his students otherwise.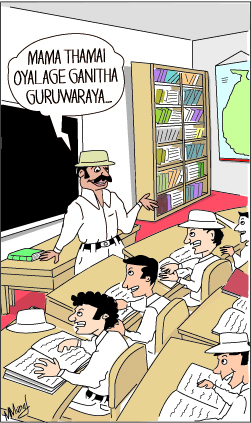 RM called me "Douglas" in class, to avoid the archaic Kandyan name I inherited. There was another who had his initials as DJ whom he called "District Judge "and later changed to "Dry joker", not without reason. "Shelly", "professor" …..were some other names he made up.
Though we were not aware of his exact educational credentials, it was widely known that he was awarded a gold medal for chemistry by an Indian university. This achievement robbed us from having him continue teaching math in Grade 10, as he was made the faculty head of Chemistry in the following year. 1968 was the only year he taught us and probably the last occasion he taught in the Sinhala medium.
RM was a law student attending classes externally. He completed his finals with first class honours. He was a voracious reader and his leather bag was full of colourful books. We were fascinated by the fancy covers adorning the books rather than their titles. During those thrifty years, well bound glistening books and periodicals in such form, were only available at British Council and USIS.
He was a co-coordinating master for the school's annual prize giving, advising the students on money allocated for each prize and on selection of books for prizes won. I could understand little or nothing of a book he recommended for me then, despite continuous references to Oxford and Malalasekera dictionaries! The book on philosophy, authored by the well known Indian thinker J. Krishnamoorthy, turned out to be a book of continuous reference for me, in later years.
When we missed RM at math after 1968, we caught up with him in the following year, through the "current affairs" class. The school curriculum devoted two hours a month for extra curricular activities, which gave the students time to enrol in a variety of non academic activities, from photography to chess and motor mechanism to cultural affairs. RM conducted the "current affairs" class, which was our natural selection. If there was a time that I did not feel drowsy after lunch, it was this two-hour time period. At the commencement he would ask for any issue or topic for discussion, local or global.  He would elaborate on any topic suggested with ease. From the scandalous Profumo affair to the rumoured affairs of Sir John Kothalawala, the Suez Canal to the notorious no-way of Norris canal of Maradana and the six day war hero General Moshe Dayan to the 1956 local general elections' political hero of the masses MS Themis! He kept the class in rapt attention, on edge and in suspense at times. The story about a Jewish prisoner learning chess in prison, through a book he managed to smuggle in, which helped him to endure the mental torture dished out in prison by playing the game through the board and pieces he invented and how he eventually beats a chess champion was one of RM's masterpieces! Though I have narrated this story to many in later life, I am yet to learn the source of it!
This was the year preceding the 1970 general elections of Sri Lanka. The coalition ruling party led by the affable Prime Minister Dudley Senanayake was challenged by the formidable left- leaning coalition led by Sirimavo Bandaranaike and ridiculed by the upcoming vociferous JVP, led by Rohana Wijeweera. Yet, within TCK, the student support for the Grand Old Party, quite understandably, was formidable and vociferous. In one of the current affairs classes RM tested the waters by an invitation for show of hands. All except three were shown for the UNP. My classmate L. P. Ranasinghe who was an enthusiastic supporter of the LSSP and a senior colleague Ajith Kobbekaduwa, a notable SLFP supporter were, among the minority.  (No, the third wasn't the writer!)
RM's articles appeared in English national newspapers often. He touched on social and current issues of the day. He held moderate mainstream political views, discussed meaningfully.
RM was full of life, a dynamic character, friendly and approachable; The notable occasion we observed him to be different from his usual self was when his son passed away in or around 1970. The night before, we attended a service in the college chapel, at the invitation of the chaplain to invoke blessings on the gravely ill child.
RM exemplified and strived to instil in our young minds, TCK's vision of an all-round education, sans sports. He had a good understanding of the social and political behavioural aspects of his countrymen and the tensions rooted amongst them. Had he chosen politics as a career, we may have witnessed a second Lakshman Kadirgamar!
Recently, noting RM's name on Face Book, I reminded him of his days of math in Sinhala! His humble response was that it was only an attempt to keep up with a suggestion made by the then principal of TCK, C.J. Oorloff, due to a dearth of Sinhala math teachers during that era; and what a grand attempt it was!
If not for his gold medal in Chemistry, half my class may have gained entrance to the Moratuwa University!!
(Roy S. Muthaya presently lives in Melbourne, Australia)