Anoma Janadare releases part 2 and 3 of her autobiography
By Tharooshie Mahahewage
View(s):
Veteran actress and writer Anoma Janadare launched Parts 2 and 3 of her autobiography Punarukthi- Punarakathana and Punaragamana last month.
The first book which spoke about the hardships and different stages of abuse faced by a girl from a middle class family has been well received by men and women of all age groups, said the author. The new books address the issues that a middle class girl faces in university. While portraying the good side of university life, she has attempted to show the politics that surround local universities and how students are pressured by these issues which in turn affect their education.
"The two new books talk a lot about politics but I will never stop talking about women's rights and the difficulties faced by women. So many university students die every year because certain groups put forward these innocent students to fight for the ends of big people. Who will take responsibility for these deaths? We shouldn't forget that these children all come from rural poor families and that their parents are working hard to give them a good life. Is it right that we let them die like this?" Anoma asks.
Anoma is hoping to release the next issue of this series in 2014 in which she hopes to deal with the subject of her marriage.
The books also talk about how she came into acting which she has portrayed in a tragic manner because it was her then lover who lured her into the industry. In the upcoming book she hopes to speak about the unfair treatment given to actresses who are asked to act in a controversial manner but poorly compensated.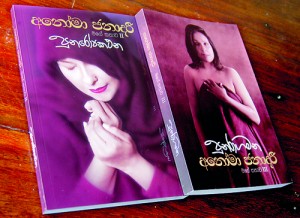 "I aimed the book to a readership comprising of youth who are in university as well as those who hope to enter as well as their parents. There's a lot going on inside those gates than society knows and it should be brought to light," Anoma said.
The launch of the English translation of the first book released on Anoma's birthday last year brought together several women's organisations which came forward in a show of support and solidarity for her.