Lankans not little in rugby anymore
View(s):

Sri Lanka Rugby had its pride restored and rekindled with a win over Poland in the last match of the Dialog Serendib International Cup Tri Nations Series played on Friday. It was a close win with the scoreboard reading 26-25 at the final whistle. Sri Lanka was trailing 15 to 3 in the first 30 minutes of the game. A penalty in the 31st minute and a try in the 32 minute which was converted closed the first half 15 to 13 in favour of Poland. The Poles who had travelled from a 12 degree temperature to a hotter climate was in addition exposed to more heat of a determined Sri Lanka side.

Another try, a penalty and a drop goal saw Sri Lanka take a comfortable 26-18 lead until Poland scored in injury time to close 26-25. The backs did a lot of running showing that we had strength in that area. The tackling was good and the forwards played better than in the first game.

The Tuskers had learned from their mistakes but cannot be overly happy as there is room for polishing as they meet the Asian5Nations in the first quarter of 2014. This is the first time Sri Lanka has beaten an European national side where there have been sides visiting Sri Lanka since 1902 but in a different playing arrangement of international rugby.

This win however had no impact on wining the Tri Nations tournament for the Dialog Serendib Cup in its inaugural year. Madagascar had the Cup in their hand beating Sri Lanka in the first game on October 26 and then beating the much fancied Poland team in the second game played on October 29. Sri Lanka had its chances as they went down to the little-known Malagasy side. Sri Lanka has to blame itself for this defeat partly due to a litany of dropped passes. Forwards play looked a semi-organized mayhem as they failed to build a solid platform at the breakdown.

Synergy is about the outcome being greater than the sum of the components; simply it is about 1+1=3. Cohesion and understanding two important components in the equation for success in rugby was less than two and contributed to the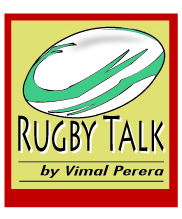 defeat. On the other hand the Malagasies avoided contact and threw the ball around. Whilst the Sri Lanka cover was good to restrict the scoring the Tuskers lacked the attacking potential to penetrate the defense and the 12 points they scored were through penalties. It was good that Sri Lanka has learned from this match and strengthened the weak points as the Tuskers regrouped to beat Poland. Now the field ahead is the preparation for the Asian5Nations to be played early next year. Hopefully the learning curve will do well.
In the second match Poland who were more known in the European circuit were beaten by the Malagasies who had had knitted themselves to a better attacking unit following the first game against Sri Lanka. Once again they threw the ball around while taking the chances from inside their territory with some piercing runs. They were hard in their tacking and used the sudden acceleration and deft movement to put points on the board. The quality of their rugby was just not running but included couple of perfectly executed drop goals to add to the tally.
Poland who arrived the day before had the worst of a hot Tuesday evening having come from where it is cold at 120 f.
A blunder in planning for acclimatization had an effect and the 29th ranked suffered a defeat. Probably another learning point for the locals is to keep in mind the distinct needs as we have to play in different climatic conditions for the A5N.
I would have expected a bigger rugby crowd to witness the Tuskers as well as for the Poland and Madagascar game. I would have thought that there would have been more hurrah boys as Sri Lanka is among the first three in Sevens and first five in the 15s. I could not understand the apathy as we find many rugby loving pundits who shout at matches or write loudly on blog sites. The last match against Poland saw a vast improvement in crowds that cheered the Tuskers up to the final whistle. Probably the fans did not think much about the little-known Madagascar side about whom we know better now.
From a 15-a-side tournament we once again move to the last of the Asian Sevens Series in Singapore for the men and in Pune for the women. As Sri Lanka does not have the luxury of a Sevens specific pool some of them played in the Tri Nations games. Hopefully we should be able to cement our third position in the Asian Sevens Series.
Sri Lankan rugby has come alive with a different set of followers who seemed to love the physical nature of the sport. The calendar was successfully changed to accommodate the International Sevens and 15s events in Asia. The Tri Nations is a good start and next year around this could be improved upon. This may also require adjusting the calendar for the event to be around March by which time the Sevens and club season will be over and we will be gearing to the 15-a-side Asian5Nations Series
.-Vimal Perera is a former Rugby Referee, coach and Accredited Referees Evaluator IRB
comments powered by

Disqus