Highest ranked Asian woman ever Li Na is world's No.3
View(s):

Women's Tennis Association [WTA] championships in Istanbul this year had glamour, history and the eight best of 2013 provided a great Tennis spectacle. Jelena Jankovic former number one bounced back from her bout of injuries and bad form to be noticed. Jankovic reached the semi-finals and it was Li-Na who knocked her out in a thriller.

In the finals, Li-Na playing sensational Tennis surprised everyone by winning the first set against Serena Williams. This shook Serena, who looked little tired, slow and showed signs of having a bad day. But Serena came back, showing that her brand of Tennis is the best in 2013 and it has the capacity to win even on a bad day. She won the final set at 6/0. It gave Serena the WTA Championship Title and the Billie Jean King Trophy. This year Serena Williams is the undisputed Queen of Tennis. Her achievement includes two grand Slam titles and a win/loss record of 78/4. All these enhanced her career earnings by 12 million dollars. In the pre-match interview she emphasized that she would improve her game further next year. If that happens she could be a Grand Slam prospect for 2014.

Li-Na of China

After Istanbul, another land mark event happened; for the first time an Asian woman is world's number 3. Li-Na of China! She belongs to the first generation athletes from China to break into the top 10 of professional Tennis. At 31 she has achieved much of her goals. In her career she has won 19 singles and 16 doubles ITF women's titles, 7 singles and 2 doubles WTA titles. Her career prize money is well over 13 million dollars.

Li-Na's is not a story of plain sailing. She is the only child of father Li Sheng-Peng a professional Badminton player and Yan-Ping of Wuhan, China. Li-Na played Badminton till 9 and then switched to Tennis. [She lost her father when she was 14]. Tennis as the second sport is a trend one sees in many successful sportspersons. Another interesting aspect in her Tennis development is the emphasis in Doubles. It has developed many of Li-Na's effective game-making aspects in singles. Her quick assessment of situation and sighting of the ball gave instantaneous reaction. Other is her all court positioning and stroke making ability. These are from doubles.

Li-Na's husband Jiang Shan coached her most of the career. He is always there by the court side when Li-Na plays. There were many outspoken comments from Li-Na in her post match interviews about their partnership but she always said it laughing. Then, Justin Hennin's Belgian/Spanish coaching outfit moved into China. Li-Na has been working with them this year. It has changed her approach and to a good extent her game. I believe she has three more good years. There is hope for an Asian number one.

China Taipei doubles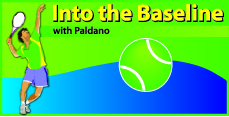 The Chinese did not stop with Li-Na's Singles appearance in the finals. Hsieh SuWei and Peng Shuai of China and Taipei took the doubles title beating the Russian pair Elena Vesina and Ekaterina Makarova in the finals. Today China is another 'Tennis-Power' to be reckoned with. At present doubles is providing two vital purposes in Open-Tennis. First, it is fast becoming the post singles career platform for players. Second, it is an 'inlet' for the young to enter Open-Tennis arena. Sara Errani of Italy has number one in doubles and seven in Singles in the world rankings. That is truly amazing. There will be much growth of doubles in the coming years.
Women's tennis history
The WTA Championships of Istanbul went further with the event and reminded the historic road of Women's Tennis. The person who did it all was Billie Jean King. In many ways WTA is her brain child. The event hosted many past legends and it was a pleasant refreshment of yester year's Tennis memories.
Men's ATP – Federer's dilemma
In the finals of the ATP men's tournament, Juan Martin Del Porto beat Roger Federer in his home town Basel Switzerland last week. Even as the loser Roger Federer received the longest applause I have seen in sports. It lasted nearly for 3 minutes. Federer's appearance in the final does not place him on safe grounds to be eligible for the year ending ATP event in London. He will have to perform well in the last big ATP event before London. It is the 'Paris-Open' this week. In the match against Del Porto in Basel, Federer could not break though in crucial situations to turn the match to his favour. Federer has shown this trend throughout 2013.
<George Paldano, former international player; Accredited Coach of Germany, ITF and USPTR; National, Davis Cup and Federation Cup Coach – georgepaldano@yahoo.com
comments powered by

Disqus