Something to wave his hands about
Kumudini Hettiarachchi reports
View(s):
Back from Mumbai with a pair of 'myoelectric prosthetics',  Jeevantha is ready to get back his life.
Kurukulasuriya Patabendige Viraj Jeevantha de Silva, 27, from Kuda Maskeliya cannot stop smiling.  Sitting up in bed at the Police Hospital at Narahenpita, he is "showing off" his hands to a knot of nurses and minor staff, moving, opening and closing and flexing his fingers.
Only a very close glance will reveal that those around him are admiring and exclaiming over a pair of artificial hands. Jeevantha has just returned from Mumbai, India, with hands where earlier there were only stumps below the elbows.
Custom-made to fit Jeevantha, the hands are the same colour as his skin and look real because lines and tiny hairs are all part of these prosthetics. It is not only the cosmetic effect that Jeevantha, in the prime of his life, is overjoyed about. These hands actually work. After more than seven months, he can hold a pen and write, drink from a cup, comb his own hair and lift a chair.
As soon as he gets well-used to his hands, he will be able to travel around by public transport all on his own, a luxury he has not enjoyed. Jeevantha has been able to get a pair of 'myoelectric prosthetics' which doctors at the Police Hospital believe may be a first for Sri Lanka. Custom-fitted and attached to the remaining part of his limbs, they use electronic sensors to detect minute muscle, nerve and EMG (electro-myographic) activity and translate this muscle activity into information that its electric motors use to control the limbs' movements.
Jeevantha had both his hands blown off on September 24, last year (2012) while performing routine duty, clearing out a barrel from a storage room at the 10th milepost Special Task Force (STF) camp in Pottuvil. The blast from a pressure mine which was among old uniforms also blinded him in his left eye.
When Jeevantha came under the care of Police Hospital's Consultant Surgeon, Dr. Rohana Vidanage, and the Surgical Unit's Medical Officer, Dr. Dinuka Seneviratne, and the National Hospital's Plastic Surgeon, Dr. Dhammika Dissanayake, they searched and picked myoelectric prosthetics for him as the best option.
The next hurdle was finding the Rs. 4 million needed to get Jeevantha those hands as well as rehabilitation in their use in Mumbai.
An appeal in the Sunday Times on January 13, 2013, headlined, 'Oh! For a pair of hands again' not only saw funds flowing into his account but also phone calls from within and without Sri Lanka with offers of help and moral support. "Many people, Sinhalese, Tamils and Muslims called me to find out how I was doing and promised their support for me to get new hands," he says.
His peers and friends at the Special Task Force also came forward without hesitation on a request by Commandant Deputy Inspector General Ranawana, while friends, relatives and the schools he attended chipped in.
As Jeevantha left for Mumbai on April 21, with a shortfall of Rs. 800,000, the Sunday Times once again intervened with the article 'Getting back on his feet again with brand new hands' the same day, resulting in the shortfall being quickly bridged.
A fruitful life lies ahead of Jeevantha………with dreams and hopes of expanding the little tea kiosk his mother runs at Kuda Maskeliya…….and yes, someday finding his life's partner and having his own family.
Jeevantha's fate lies in his own two hands, may be artificial, once again.
Jeevantha gave me hope: Achala
It was an emotional meeting. Jeevantha with his brand new pair of hands and W.K. Achala Priyadharshani, 23, awaiting a similar limb.
Achala was at the Police Hospital to check out Jeevantha's hands because President Mahinda Rajapaksa has promised to get her a similar one through the President's Fund.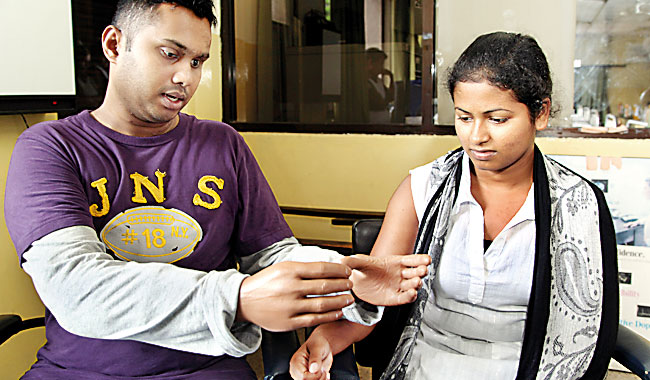 While Jeevantha got his hands from Otto Bock Healthcare, a company based in Germany with a branch in Mumbai, Achala says that President Rajapaksa has instructed the Army Commander to get estimates from the company for three different types of hands.
Achala who fell down the stairs in her home on January 17 was taken to the Heegoda Peripheral Hospital where splints were placed and then to the Matara Hospital where a Plaster of Paris cast was put on her left hand. Later she was transferred to the National Hospital in Colombo where her hand had to be amputated on January 23 as gangrene had set in and her life was in danger. An Expert Committee appointed by the Health Ministry probed the incident and reported that in addition to negligence at the Matara Hospital there had also been deficiencies in the treatment process as well as some system failures.
Achala who is a final-year Law Faculty student at the University of Colombo is due to sit her finals in July. "Jeevantha came to see me at the National Hospital soon after my hand was amputated," Achala told the Sunday Times, adding that he gave her hope when she was in the depths of despair and wondering whether life was worth living.
The Sunday Times followed Achala's story in a series of articles – 'I will train my right hand, says left-handed Achala' (February 1); 'Experts' report tomorrow' (February 10); 'Hand-amputation incident charge sheets out' (February 17); and 'Blaming and shaming or learning from errors the way out' (February 24).
Follow @timesonlinelk
comments powered by

Disqus