People and events
View(s):

'Tagore and Sri Lanka': New volume commemorates Nobel laureate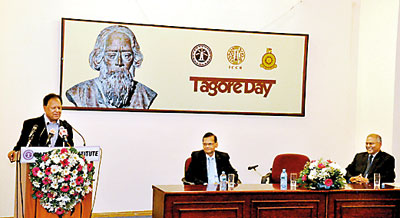 'Tagore and Sri Lanka', a 150th birth anniversary volume commemorating the Nobel laureate Rabindranath Tagore was launched by the Indian Cultural Centre this week.
Senior Minister for International Monetary Co-operation Dr. Sarath Amunugama delivered the keynote address while External Affairs Minister Prof. G.L.Peiris and Indian High Commissioner Ashok K. Kantha were also present at the launch ceremony held at the Lakshman Kadirgamar Institute for International Relations and Strategic Studies.
A discussion on understanding Schizophrenia
The complexities of Schizophrenia as portrayed through a real- life experience: "Jonathan's Story-My Life with Schizophrenia" will be the focus of an evening's discussion hosted by Samutthana ( The King's College London Resource Centre for Trauma, Displacement and Mental Health) on Thursday, May 23 from 6.30-8.30 p.m. at Cinnamon Grand's Angsana Meeting Room ( Echo Restaurant entrance) as moderator Senaka Abeyratne will take on panellists Dr. M. Ganesan (consultant psychiatrist), Dr. Belinda Graham (clinical psychologist) and Anne Errembault ( Systemic and Family Therapist).
The interactive evening will include panel discussions and also opportunities for the audience to share their stories and experiences revolving around the theme- and will also take into account the significant disruption schizophrenia causes in the lives of those affected, its impact on family and relationships, and the stigma and prejudices attached to it that need to be removed .
Entrance is by programme, priced at Rs.1000 (including refreshments). Contact Dushy Parakrama on 0776565201 for reservations.
Kidney transplant urgently needed
Mr. D.De Silva of Swarapola, Piliyandala is suffering from chronic kidney disease and needs an urgent kidney transplant. The family is looking for a kind donor with an O positive blood group to save his life. They can be contacted on tel: 011 2613501.
Annual get-together of  Sri Lanka Air Force 39th intake
The annual get-together of the Sri Lanka Air Force 39th intake Ex-Airmen's Association will be held on Sunday, May 19 at Vila Sanasuma Reception hall, Ekala from 10 a.m. onwards.
For more details please contact 071-6845571 or 071-9757579.
Mother's Day at Kingsbury
This Mother's Day, The Kingsbury takes a special stride towards rewarding all mothers, with magnificent treats laid out for picking.
"High Tea" at The Kingsbury (3 p.m. – 6 p.m. at the Gourmet Station) that was on from May ends today.
Nevertheless, if you'd rather pay mother a visit this Mother's day, take her a scrumptious Kingsbury cake from the Gourmet Station at prices worth its delight.
The popular Sunday Brunch at the Harbour Court with the enormous spread of mouthwatering delicacies from around the world, will become Mother's Day Brunch for the winning price of Rs. 3,500. Call 0771087720 for more information or log on to www.facebook.com/TheKingsbury
Grand opera "Mahasamayama" to be staged for the first time
The Grand Opera "Mahasamayama"- the first of its kind in Sri Lanka- will be staged on May 19 and 20 at the Nelum Pokuna Mahinda Rajapaksa Theatre. "Mahasamayama" is a musical pageant based on an ancient traditional legend 'Gotaimbara and Mahasona' designed to fit into an ultra modern theatre.
The cast, featuring key figures in Sri Lankan theatre, includes- Channa Wijewardena as Ishwara, Jackson Anthony as Mahasona, Sriyantha Mendis as Gotaimbara, Ravibandu Vidyapathi as Bashmasura, Madani Malwatta as Gotaimbara's wife and Indika Upamali as Umayangana.
The public show on May 19 will be at 6.30 p.m. and there will be a school show at 10.30 a.m. on May 20.
Dharmaraja College old boys inaugural Batch Get-together
The inaugural Batch Get-together (78-79 Group) of Dharmaraja College old boys was held at Earls Regency Hotel, Kandy on March 30, 35 years after leaving their Alma mater.
Applications for new University of Colombo course on India 
Applications will be entertained by the newly-established Centre for Contemporary Indian Studies (CCIS) University of Colombo for a Certificate Course on Contemporary India from local and foreign applicants.
The course is designed to provide an introduction to the field of contemporary Indian Studies and interdisciplinary research addressed to India's development, achievements and problems.
The course is intended to attract young researchers, employees attached to the public and private sector, diplomatic missions, NGOs, and international organisations and others who are interested in exploring the field of contemporary India.
The duration of the course is six months and lectures will be held on Saturdays from 9 a.m. – 1.30 p.m. at the University of Colombo. For further details please contact: Centre for Contemporary Indian Studies (CCIS) Tel. 0112591610 / 0718381142 or directorccis@gmail.com. http://ccis.cmb.ac.lk/
IWMI and Ministry of Water Supply & Drainage sign MOU to improve septage management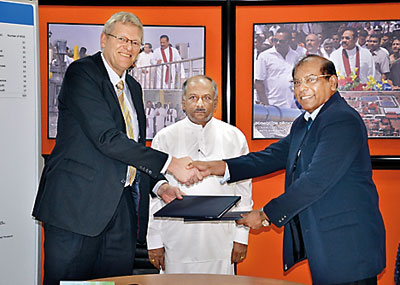 The Colombo-based International Water Management Institute (IWMI) and the Ministry of Water Supply & Drainage, Sri Lanka, signed a MOU (Memorandum of Understanding) this week to improve septage management in the country. IWMI Director General Jeremy Bird and Secretary, Ministry of Water Supply & Drainage A. Abeygunasekera were the signatories to the agreement.
The MOU provides a collaborative framework for sustainable septage managementi in Sri Lanka in line with national regulations. Septage recovery and reuse will be a key focus and IWMI will contribute its research towards the drafting ofthe septage management component of the national sanitation policy.The Ministry of Water Supply & Drainage will lead implementation of the policy through an advisory committee headed by Minister of National Supply and Drainage Dinesh Gunawardena.
Deputy Prime Minister of  Japan in Sri Lanka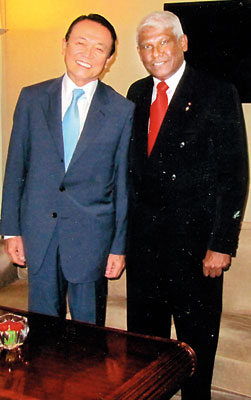 On a brief official visit to Sri Lanka on May 1, Deputy Prime Minister and Finance Minister of Japan Taro Aso met with former World President of Jaycees International and Provincial Councillor of the Western Province Isfahani Sameen. Mr. Aso, a past National President of Japan Jaycees has been a close associate of Mr. Sameen for the past 38 years.
Talking her way to the top
18-year-old student Shehani Rajendra will represent Sri Lanka at the 'International Public Speaking Competition' to be held in London
By Tharooshie Mahahewage
Holy Family Convent student Shehani Rajendra will represent Sri Lanka at the 'International Public Speaking Competition', which will be held in London from May 13 to 17 at Dartmouth House. This honour came Shehani's way after she won the National Public Speaking Contest organised by the English Speaking Union (ESU) of Sri Lanka.
The ESU was established by Royal Charter with the Queen as Patron and the Duke of Edinburgh as President and brings together individuals of different languages and cultures. The National Public Speaking Contest organised by the English Speaking Union is held in over 55 countries (Commonwealth Countries) each year.
Shehani, 18, has had considerable success at different competitions. "I was chosen as the Sri Lankan (Highest Scorer) Associate Prize Winner for my diploma (ATCL) in Public Speaking by Trinity College London. I also received the Z O N T A- Women in Public Affairs Award." She was also placed 5th at the SAARC Essay competition for SAARC Charter Day."
"Shehani is an outstanding student. She shows her best in every area. She's very responsible and reliable. I am very happy for her," said the Vice Principal of Holy Family Convent, Shiranee Doss.
Follow @timesonlinelk
comments powered by

Disqus