A multitude of miles and high fives
View(s):

Sri Lankan Jean-Marc Flambert experiences the London Marathon

I watched the Virgin London Marathon in 2012 and was inspired. If people could run the distance with a rhino suit on, or as an 80-year-old, surely I could. On the way home I turned to my Facebook friends. If I could get 200 'likes' I would run! My wife pushed her own Facebook friends and we got a total of 150… 75% was high enough so I applied.

Summer 2012

I had spent the summer like most people, glued to my couch, beer in hand. The Olympics were great. I started looking at charities and I was trying to find one that would be close enough to make me go out for runs in the winter.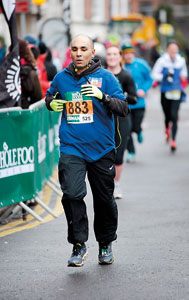 This is where I came up with my master plan. I decided that unless I got in on the ballot, I would not run. I did not realise how difficult it is to get on to the ballot. I prayed and told God that if he wanted me to run, he would need to get me in this way. Note to self – don't ask God for something unless you really want it.
October 1
I got home at 6 p.m., a little tired. Waiting for me was a letter from London Marathon. Do you know that sinking feeling when you get something and you realise you don't want it? I panicked when I read the letter. I was in. I had not got in on the ballot but on the second ballot as I had donated my entry fee (which allows you to be re-entered for an additional 2,000 places).
I did what anyone who panics would do: I acted. I went out for a run but lasted two minutes. I realised I had a lot of work to do. The following weeks proved an uphill struggle, but working with my wife and family, we managed to carve out five to six runs a week for all but four weeks between October 1 and April 21.
My training highlights included running in places that my work/holiday took me to such as Saint Lucia (prior to getting in to the marathon but after applying), France (Cannes), Sri Lanka (Colombo and Bentota), Bahamas (Nassau) and Germany (Berlin). I got to discover cities that I had been to but did not really know well.
My best discovery was that whilst my office commute (door to door) takes me 50-55 minutes by train/tube, I could run the eight miles in 75-80 minutes!
I did lose over 10 kg initially and then put some back on. I started to control my alcohol intake (but did not stop) and managed what I ate. I was adamant to make this a lifestyle change, but not a'give up everything that I like'.
16 mile run
On March 24, 2013 I took part in the Kingston Breakfast run. It was the first time I found myself in a competitive run.
(http://humanrace.co.uk/event-information/running/whole-foods-market-breakfast-run/entry-list)
It was not as hard as I had expected, though I was in pain for 48 hours afterwards. I maintained a pace of 10 minutes per mile.
Fundraising
This was perhaps the toughest part. Who do I run for and what do I say?
It then dawned on me that May 24, 2013 is the 20th death anniversary of my father and he took his life. It was therefore natural to run for Young Minds, a UK-based group reaching out to youth who feel suicidal and Tearfund as they do great work in Haiti where my father and I were born.
I was worried that I would not raise more than £500, but everyone has been so generous! To date the total is £2,712.25 with Gift Aid.
To see some wonderful comments and to learn more about my motivation read the page :www.virginmoneygiving.com/JMFlambert
The marathon
The night before was stressful with Xavier, my five-year-old son, throwing up 3-4 times and my younger son Kai (almost two-years-old) waking twice. My wife handled all this on her own, but my nerves and being aware of what was happening downstairs meant that I had a restless night.
The next morning I felt sad leaving without saying bye to Xavier. I knew that he would not get to see his daddy run, and he had been almost as excited as I in the run- up. Xavierwas so excited, he made boards to hold up on the side of the road. Unfortunately, he was sick the night before and the day of the marathon, so he could not come out and support.
I arrived at Blackheath at 8 a.m. (two hours before start time and an hour faster than I had planned), with a slight headache but feeling that the paracetamol was working. The atmosphere was amazing and the blue sky at the beginning made it surreal considering the weather in which most of us had prepared for the day.
Once I had got my bearings, I placed myself strategically between the toilets, the truck that was waiting to take my bag to the finish line and my starting point – gate 8. I sat on the grass like thousands of fellow athletes and ate a banana, watching the large screen which was showing images of our 'Blue' area and two other start points 'Red' and 'Green'. Everyone seemed relaxed and so I lay on the grass and tried to relax, enjoying the first rays of sun for the year.
With 45 minutes to the start, I joined the queue for the loo. With 32 urinals, you would not expect a queue 200 long, but does anything happen as expected over 26 miles ?
First 13 miles
The first 13 miles were great. I was planning to tail the 4 hour 30 minute marker (the man with the tall flag who runs the race at the pace required to finish in that time) but excitement saw me pulling in front occasionally, and having to pull back. I was maintaining 10-minute miles but he was occasionally slower. I never once looked up and saw less than 100 people on the pavements in front of me. It seemed that everyone had come out to watch. It was almost as if they had been taught how important it is to us runners to be cheered and encouraged.
Many supporters were there with banners and promotional material supporting a charity or loved one. However, everyone took their responsibility to support all marathon runners seriously. I certainly enjoyed this attention.
The only complaint I have about the supporters was with regards to BBQs. When you run past your fifth BBQ, the sweet smell of burning meat drives you crazy. Especially when your last meal was eight hours ago and you have been running for four hours!
London Bridge – mile 13
London Bridge is a mental tough point in the marathon. As you cross to the north side, you turn right and run east. On the other side of the road you have the elite runners nearing their home stretch – they are on their 20th mile.
To make matters worse, I had this sudden pain (a toenail on my left foot). I walked a little and tried to run. Then stopped, waited and tried again. Too much pain. The next four miles saw me walk, jog for a 100 metres, walk, attempt another 100 metres whilst the toenail had not come off. The pain was too much as St John's only had a plaster in terms of any support to offer.
High fives and Marathons
That began a new experience at the marathon. The "OK, how can I make the best of the day?" The solution -an attempt to get the highest number of high fives in a half marathon. I kept to the right side of the road and began long strings of high fives. Anyone and everyone joined in. At times I could see 30-40 hands up- like a Mexican wave- all waiting to meet mine. Some people were over-enthused and tried high handshakes, grabbing my hand and this meant my being pulled back.
The home stretch
My errant toe meant that my five-hour target soon became six. It was a real struggle to push myself mentally and physically as I knew I had failed. Failed to train better and failed to avoid injury. I knew that all my supporters had either been tracking me online, looking for me on TV or were just aware that I was running. I could not let them down and for me that meant I had to finish, and I had to finish trying as best as I could.
Seeing my wife and Claudia at the 19th mile gave me a massive boost. The hugs and support were great. You forget how good it is to stand out of the crowd and be recognised. I soon turned into the 'tunnel' which opens out to the Embankment-the last 3 miles.
Passing the Virgin Holidays party boat gave me the final vital boost. It was the location for the post- run party, and some of my friends were outside cheering us all on. Seeing my friends gave me that energy shot. I ran the rest of the distance, something I had not been doing much of from the 13th mile.
Crossing the finish line felt good (I was too tired for any greater emotion). I slowed and enjoyed the cameras, giving them plenty of time to click my right side. I hugged the lady who presented me with the medal and then walked over to get my bags from the truck. I stopped to change clothes and put on something dry and warm. That was when my legs ceased functioning. Trying to walk from Buckingham Palace to Trafalgar Square and then the Embankment proved to be the hardest part of the journey.
Will I do it again? The simple answer is yes. If I don't get into London, I will look wider, but I have every intention to run another race.
Follow @timesonlinelk
comments powered by

Disqus