Hits from a cross section of generations from Merry-An Singers
View(s):

Come late May, local music aficionados are in for a treat as the Merry An Singers present The Masters and the Musicals, another instalment of the series 'A Tribute to Legends of Music'.

The show will be staged on May 30 and 31 and June 1 at the Lionel Wendt. 'A Tribute to Legends of Music' has a long and rich history for these performers. "In the 34 years of the Merry An Singers productions of concerts we have been able to present concerts featuring a wide range of composers who are legends," says Mary Anne David, Managing Director and vocal instructor of the school and Choral Director of the performing group. "Bach, Mozart, Verdi, Schubert, Gershwin, Irving Berlin, Cole Porter, Lerner and Loewe and also local performers who have become legends in their own right: Kishani Jayasinghe, Bathiya and Santhush, Sunil (of Gypsies), Rajitha (of Misty).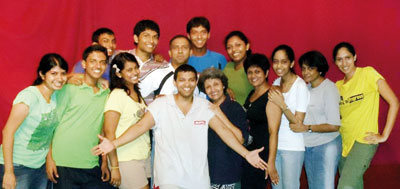 "The titles of concerts varied from 'Mozart's Requiem', 'Songs My Mother Taught Me', 'Bach to Beatles', 'Bustin' Broadway', 'Cruising with Cole'…we felt that the creators and performers should be given pride of place; so this has become our main title with a sub title of the concert which is more specific."
Expect hits from a cross section of generations performed by a selection of old hands as well as new. The show will cover Broadway, old-time favourites, contemporary favourites, some boogie woogie and jazz and the classics. While there is no fusion music many items will have unusual arrangements of well-known numbers, we're told.
Mary Anne, who has mentored leading local talents such as Soundarie David, Sunil and Piyal of the 'Gypsies', Ashanthie, BnS and internationally acclaimed opera star Kishani Jayasinghe among others is known for her expertise in the field. She has been a a teacher of vocal music for 43 years. Mary Anne will spearhead the Musical Direction of the show while Direction and Choreography will be by Andre David, with veteran thespian Andrew David producing the show.
Tickets for the show will be available from May 15 at the Lionel Wendt.
Follow @timesonlinelk
comments powered by

Disqus