Appreciations
View(s):

It's been 20 years since you left us | Cecil Marinus Perera

Though my memory is almost nonexistent of the first few months (and unfortunately the only few months) of my life that I knew my grandfather 'Seeyapappa', the stories I have heard about him from Aachimami, my dad and my uncles and aunts makes me believe that he was truly a great man. It was truly unfortunate that neither I nor anyone of my six cousins other than the eldest akki got to spend any time with him.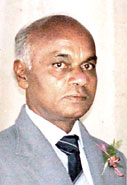 Gardiyawasam Meegahapola Mahahewage Cecil Marinus Perera was born in Maggona in 1926, the youngest of three children to an affluent landowning family. His father was the first Josephian from Maggona and could always be seen in a white sarong and coat. He also brought the first car to Maggona and needless to say Seeyapappa took his driving licence at the age of 18 and was a very reliable driver and a rider.
Seeyapappa studied at St. Anthony's College, Panadura. His extraordinary talents led him to be chosen as the pianist of Fr. Marcelline Jayakody's first choir when he took over the Maggona parish. Together they formed the youth club "Lakraani". Seeyapappa could play any musical instrument and had a great talent for singing.
He taught at St. Mary's College, Matugama and then switched to planting. He joined the Sudu Ganga Estate, Matale as a trainee but made sure to visit Matugama every Sunday on his brand new Triumph bike to see his sweetheart. He then joined the Delkeith Group, and trained under the famous British planter, C. A. C. Bowan, in Lathpandura. He gained experience in all areas of rubber planting and maintenance and joined the Rubber Research Institute as an experimental officer. He showed his prowess in the technique of experimental layouts in the field and later plant breeding for superior rubber clones which gave high yield as well as showed high resistance to diseases.
He served in Hadigalla in Pimbura, Niwithigalakale in Matugama and Kuruwita in Ratnapura and then in Dartenfield  Agalawatte. He retired in 1987 after serving the Rubber Research Institute for 30 years. Later his services were sought by proprietary plantations and he was the visiting superintendent of two rubber estates. His assets were his honesty, integrity and loyal service. Seeyapappa was a Good Samaritan who did not hesitate to lend a helping hand to anyone.
When my grandparents were living in Kuruwita, their bungalow was a regular stopover for the priests of the Ratnapura church. Both my grandparents being good singers, they took part in the Christmas Carols programme at the SLBC (Sri Lanka Broadcasting Corporation) under Fr. Molligoda Moses Perera who is now in the Weligama church.
Seeyapappa was a family man. He married Aachimami, Annette Perera nee Balapuwaduge Mendis of Matugama in 1956. They were devout Catholics and built for themselves and their four children a peaceful and loving home environment. But his thinking was broad enough to allow his two sons to study at Ananda College, the biggest Buddhist school in Sri Lanka and his two daughters in Sri Sumangala Girls School, Panadura.
Although as a planter he had to manage a labour force, as a father, he was more of a guiding star. He used to tell my father, "When you have children one day, don't control them. Be behind them when they need you and smile when they win." Seeyapappa passed away on May 13, 1993.
You have left us but we know you are watching us from above like you looked after your four children.May you rest eternally with the Good Lord!
Tharooshie Mahahewage
Bye blithe spirit | Gamini Wijesinghe 
Gamini was not one of a kind
He defied comparison with the humourless number-crunching men of accounting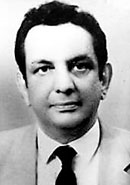 His angelic disposition lifted him high above accounting standards and balance sheets
He was a beacon of light to his juniors who, otherwise, would have been engulfed in darkness
Although he did not come from Jaffna, he was in the father and the father was in him- if I may be pardoned for a biblical metaphor
He had the gift to impress people in brief encounters
I did not know him as others knew him
When he was empanelled to hear tax appeals with the oft dull members of the Board
I chanced to meet him, of course seated opposite him, to make my case for the taxpayer under siege
Gamini's winsome smile dispelled the gloom cast by the faces of his peers on the Board
Gamini adorned his profession and spread the light of his character
He will surely be missed not only by his family but also by his colleagues, friends and acquaintances
Our loss is Heaven's gain
Sam
There will never be another you, my son | Manendra De Silva
To my darling son, "Malla" on his 29th birthday!
Last year on your birthday I made Biryani for lunch and during dinner you went out and brought me a treat. This year you are not here to celebrate because all of a sudden you left us never to come back.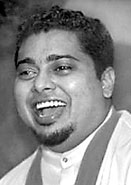 I miss you my darling son, there isn't a single day that I do not think of you. You left a void that cannot be filled. Your death was so sudden and it has taken me months to realise that you are really gone and that you are not going to come back. As Lord Buddha has preached that nothing is permanent in this world, I have to accept the fact that death is inevitable; but I am sad that you as my child had to go before me.
I miss your vibrant voice that filled the house, I miss your call for the morning cup of tea, I miss your calls to my mobile whenever I am out of house – I miss everything about you. You were such a character with so much potential and a true son of Royal College.
Although we named you Manendra, you were better known amongst your friends as "Malla", a name which was given to you by your Podi Akki.
You were a fine sportsman and you represented college as a member of the school cricket and rugby teams. A true and loyal friend to all your colleagues, you were always around to lend a hand to anyone. You never complained, never spoke ill of others. Those were qualities that set you apart from many.
You were an animal lover who used to pick up stray kittens and smuggle them into the house. The kitten "Podi" you brought home from a garbage dump in Thimbirigasyaya over a decade ago paid her homage to you by sleeping under your coffin and the dogs, Bruno, Jessie and Rusty were silent during your funeral. May be they really missed you too.
To remember you on your 29th birthday which falls today (May 12), I am giving lunch and afternoon tea to a boys' home in Madiwela. They are going to enjoy all your favourite dishes. With this gesture I will be fulfilling one of your greatest qualities – your compassion towards the less fortunate.
So goodbye my precious, my one and only (that is what you always said) darling son, till we meet again in this journey in Sansara and until we attain the supreme bliss of Nirvana together, I will always be your Ammi.
Bisheka
Fond remembrance of two colleagues | Malathy Jeyaseelan  and Anoma Kularatne
As May comes upon us our hearts and minds are flooded with memories of two dearly loved colleagues who were truly 'friends'.
When Malathy left us on May 16, 2004 so unexpectedly, after what seemed like a normal fever, we felt this deep void.
We still miss her 'smiling eyes', her gentle pat on our shoulders inquiring of us if all was okay with us! We still recall the many times she would bring roti and potato fry or a wonderful thick tomato curry. Her warmth, her deep faith in a loving God and her sense of humour will live on in our hearts.
In February this year Anoma left us even more unexpectedly after having been in school in the morning. It seems so unreal and it's almost as if we expect her to walk into the staff room at the Primary where she taught for many years before going across to the middle school.
She was one who would share our joys and sorrows as it were her very own- crying even if we didn't!! Nimal ('aiya' as she called him), and the two children were her pride and joy and last year she welcomed Dinuka warmly into the family when Yeshani wed.
We thank God today that they both knew Him and walked with Him. I believe we have learned from them 'to carry each others burdens', 'to be generous and hospitable', 'that family is very precious', that we need to 'take a break and laugh at ourselves' and much, much more. So when we think of them (although sad) we are grateful to God for the memories we have of them.
Our prayers continue to be with Malathy's husband Christy and her boys Andrew and Joel in Melbourne and also with Anoma's husband Nimal and her children Yeshani and Dinuka and Ishan in Sri Lanka. May the deep love Malathy and Anoma had for you and their faith and prayers act as a remembrance that God is watching over you all.
Colleagues at the Primary School of Methodist College
You were friend, sister and mother | Parwathy Vijayaletchumy Shanmuganathan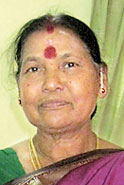 When I was born you took me into your fold, and I was empress in your kingdom. You gave me all the comfort that an empress would have had.
You held my hand and showed me the path. You reached out your hand and held me high. Your endless love will always be cherished. You're remembered, but sadly missed.
Daughter Jayanthi
Follow @timesonlinelk
comments powered by

Disqus