Of books (and DVDs) and life
View(s):

Fortune-cookie philosophy is a funny thing. It inspires the funniest people. Lin Yutang said, "Wise men must learn to read both books and life." King Arthur – and before him, King Solomon – tried it; and it brought them nothing but joy at first, and then grief and sorrow. The poet Eliot was more humane, nodding to the adage that humankind cannot bear too much reality.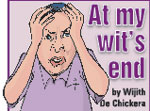 Which is why I am an avid movie buff… it's a great escape: an armchair adventurer's home away from home: the crucible of dreams that will never see the light of dawn…
These lofty and loquacious thoughts helped me to avoid being sucked into the maelstrom of traffic along Marine Drive. Or should I say Stargate Locomotivensis? The wormhole that transports me from mundane Colombo to a western island replete with trains! Don't mind it, dears, it's the least that Walter Mitty-types like me can do to fuel our fantasy.
Ta-pocketa-pocketa-pocketa! If you don't get the allusion, you need to read James Thurber's witty masterpieces of escapism sometime. I assure you, they're way better than two-bit thuggish politicos who don't remember what they did or conspiracy theorists who spy unpatriotic traitors skulking at every peaceful vigil. I could go on, but I promised my near and dear not to mention the rancid ironies and rotten paradoxes that appetize our blessed isle's taste for kitschy politics.
By the way, for once, the beauteous sights, sounds, and smells of my island's railway treasures were not the agenda for adventure today. A friendly informer had pointed me to a potential treasure trove down CharlesVolition Platz (go figure, dears!); and my mission was to get in fast, get the goods, get out like a bat from commando hell… there's shades of Mr. Mitty again? Our man's name was Out-Richard (there's a clue for true seekers there), and he was a wizard with movies of every ilk – but full of it. Genre, subtext, trivia: Geekdom personified! There are no flies on me when it comes to films, but his book and movie acumen had me desperate to out-Richard Richard with witty banter and insightful wisecracks. But our pleasant and polite enough tête-à-tête threatened to turn arctic at the introduction of the contemporary political motif. (Of course, we pretended we were discussing war and cult classic movies.)
Wijith: "I'm a film critic."
Richard: "Ah, so you don't agree with the conventional wisdom of the regime."
W: "Yes. Do you have Wag The Dog or Conspiracy Theory?"
R: "No no. But how about Goodfellas? The Untouchables?"
W: "I loathe all that mafia stuff."
R: "What don't you like about the Godfather trilogy?"
W: "How boys can be boys and no one can do a thing about it."
R: "America did it in Vietnam, Afghanistan, Iraq. Allies did it in post-WWII Germany."
W: "Doesn't make it right."
R: "It's The Way of The World."
W: "I thought A Few Good Men would make it imperative that we acted differently?"
R: "The Good, the Bad and the Ugly are all in it for the same reason."
W: "A Fistful of Dollars? Not A Penny More, Not A Penny Less?"
R: "The Power and the Glory! The Killing Fields! One Flew Over The Cuckoos Nest!"
W: "You mean we're being lobotomized for not toeing the line of the powers that be?"
R: "Don't mention it, Jack."
W: "Inglourious Basterds!"
R: "Yes."
At my wit's end, I made dissenting noises thinly disguised with nodding head movements and made signs using cleverly coded body language that I was desirous of exiting the den of geek. He subtly forestalled my precipitate departure by launching into the relative merits of the originals vis-à-vis reboots of Blake's 7, Battlestar Galactica, Babylon 5, Buck Rogers. By the time we got to Star Wars, Star Trek, and Stargate, our own pale yellow sun was a dwindling red dwarf on the horizon. We finally parted company as the last train to southern Galle trundled past a stone's throw away from this curiosity shop's unadorned windows, mutually edified and yet strangely wearied by each other's heresies.
Be that as it may, I will remember this lesson – even in my dotage, or second youth – like it was yesterday. Until you have figured out how to spend a perfectly useful afternoon pursuing some perfectly useless pastime, you haven't quite lived. Perfect. (Was that Lin Yutang or some fortune cookie?) Thank you for your time, tips, and terrifying philosophy, Out-Richard. In the parting shot of the immortal Terminator, "I'll be back" for more about books and life…
Follow @timesonlinelk
comments powered by

Disqus