Sparks fly as proposed CEB mega rate hike meets stiff opposition
View(s):

Corrupt, wasteful, mismanaged Board lives it up at overburdened consumers' expense

By Aanya Wipulasena

A statutory body examining tariff hikes heard numerous complaints that consumers would pay for corrupt activity at the Ceylon Electricity Board if there is an upward revision of prices. Over a hundred proposals have been put forward this week to the Public Utilities Commission of Sri Lanka (PUCSL), the official body empowered to decide on the rate hike.

According to proposals put forward to the PUCSL, over three million consumers – some of them in the low income groups, will be the hardest hit by the new tariff, and would be all but paying for the waste, corruption and mismanagement within the CEB.

"The CEB, in its submission, estimates its total annual cost at Rs. 256 billion, which the PUCSL has reduced to Rs. 228 billion. This clearly shows the corruption that takes place within the CEB," said Asoka Abeygunawardena, Executive Director of Energy Forum, one of the organisations submitting proposals.

He stated that the main reason for the increase in the cost of power generation for this year is not the world oil or coal price increase.  "It is mainly due to the impact of the depreciation of the Sri Lankan Rupee where, approximately, Rs 25. billion of the increase is due to the devaluation of the rupee from LKR 112.97 in December 2011, to LKR 131.50 against the US dollar, in December 2012," he said, as a result of which the cost of furnace oil will increase and this cost will be surcharged from a select group of CEB consumers.

According to the new tariff increase the bill for 30 units which was Rs. 142.50 will now go up to Rs. 217.50,while the bill for-60 units which was Rs.187.85 will now go up to Rs. 311.10. (See graphic for more details).

Mr. Abeygunawardena explained that there is a question of affordability in the proposed tariff increase. "According to a study done by the PUCSL, on an average the cost of electricity is 7% of food cost and nearly 43% of education cost, while for the poorest category it is 19% of the food cost and twice the cost of education," he said, adding that the next increase is only going to make a bad situation worse.

He also pointed out that, following a programme conducted by the CEB in 2012, to conserve electricity, there was a considerable drop in electricity consumption by low-end consumers – consuming less than 90 units per month. "However, conservation was not adopted by high-end users, indicating they can afford high electricity prices. Then, why does the CEB burden its low-end consumers, when they can charge the ones who can really afford it?" he asked.

Siddharthapura Corporate Association for Women's Development Services Secretary Damayanthi Silva told the Sunday Times that low income earners will be the worst affected, paying twice as much for electricity.

She said that most in this category are daily wage earners and would be hard put to make ends meet comfortably. "With the electricity price hike their problems will even lead to domestic violence", she added. This increase affects domestic consumers using over 91 units of electricity," points out the Lawyers for Human Rights and Development (LHRD), in a representation made by them.

They claim that the "excessive, arbitrary, unjust, unfair and discriminatory" tariff increase imposes an unnecessary financial burden on the consumers, causing "immense hardship to people already overburdened with the cost of living."

The LHRD also points out that the new tariff hike is by a margin of over 50%, which is to pay for the CEB's corruption and losses. They claim that the CEB is running at a loss, not simply as a result of high fuel prices, but because of corruption, wastage of resources and mismanagement within the CEB hierarchy, and its failure to recover electricity dues from Government institutions, with domestic users having to foot the bill.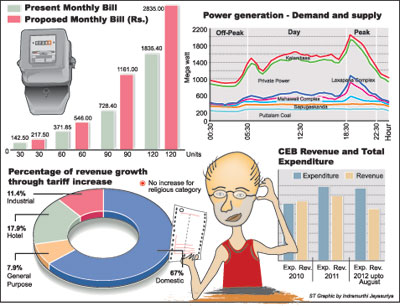 UNP MP Dr. Jayalath Jayawardena representing the Jatika Sevaka Sangamaya, also handed over a representation to the PUCSL last Thursday (28). "This is what will happen in the future," he said holding up the proposal, with a burning candle as its cover page.
He explained that the CEB fallaciously added Rs 40 billion to the 2013 estimate submitted to the PUCSL.
"This amount is three times the value of Samurdhi, one-third the cost of free education and half the cost for health in this country. This shows how corrupt the CEB is. If the CEB can do away with its wastage, corruption and inefficient management, it can easily recover the money, without burdening the public," Dr. Jayawardena said.
According to the 2009 Electricity Amendment (Act), Government should ensure efficient and profitable services and the CEB should provide subsidies to consumers using Budget allowances. He says that the Government has failed to provide sufficient funds to the CEB to provide such services to its consumers.
He pointed out that, in 2008 the loss was Rs. 33.3 billion and Rs. 11 billion in 2009, while in 2010 it made a profit of Rs. 5 billion, according to Central Bank statistics.  However, the CEB says there is no alternative but to go ahead with the increase.
"2011 has been a dry year and oil prices also went up. However, we can't charge excessively from high-end users, as they already pay a higher price for electricity. Legally, we can't overcharge a consumer," said the CEB's Corporate Strategy Additional General Manager Bandula S. Thilakasena, adding that, however, the situation will change next year when the coal power plants come on line. "80% of power is generated by oil, and we intend to completely stop it by 2017.
CEB advocates switching off while switched on in waste, corruption 
Electricity conservation is something that all citizens should adopt, said Bandula S. Tilakasena, CEB's Additional General Manager for Corporate Strategy. "It's sad that people think of conserving when there is a price hike. It should be adopted as a lifestyle," he said.
Mr. Tilakasena explained that a conservation programme conducted by the CEB in 2012 saw a clear decrease in the amount of units used, and contrary to popular beliefs, the low income earners saved more. Of the over four million consumers, three million are low-end users.
According to Mr. Tilakasena people spend more on unnecessary electronic items such as 'double door fridges' which consume three units per day when left closed all day." He said that if a ceiling fan is switched off for half-an-hour, it would easily save one unit which is a significant saving. He suggested they be replaced by wall fans which consume half the energy as ceiling fans do.
He said people in urban areas who leave porch lights and gate lights on for a long time are requested to replace such lights with CFL bulbs. "If a lamp that is kept lit for more than four hours, then it is advisable to use CFL bulbs which are cost efficient," he said.
He explained that people are used to leaving the TV on standby mode, as it is easier to switch it off and on at anytime.
However, this practice leads to the total power consumption of the TV going up by 30%, while defective refrigerators should also be attended to, he said..
"Why do we need electronic heating mechanisms when sunlight that could do the job for us? Washing machines have their own dryers that are built for countries where they lack sunlight," he said.
Overload short-circuits livelihoods
S.N. Ajith, Makuluwa, Galle
"I make sweetmeats for a living. My father started it but did not use electricity for its preparation. I do it using electricity. We are four in our family. The increase in the electricity bills will impact severely on the business."
G.H.R. Nishantha, Galle
"I am in the battery charging business. An increase in the electricity tariff means it is 'from the frying pan to the fire'. It will be unbearable, and might mean that we will have to take to an industry which does not need electricity."
K. Daniel, Galle
"I do vulcanising jobs, and have been doing it for the last 15 years. An increase in the tariff from time to time is unjust. Can we earn Rs. 400 or Rs. 500 by applying a patch on a punctured tube? The affluent do not understand this."
H.K. Samarawadana, Galle
"I am a small businessman. I have four children to educate. We will face great difficulties with another tariff hike. We can stop travelling but not eating or educating our kids. People will get relief if wastage at high places can be stopped. "
Susil Fernando, Puttalam
"The CEB claims that it is suffering losses. Therefore, with this increase, we hope it can wipe its losses and start making profits."
S.P. Piyadasa, Mahakumbukkadawala
"We are farmers who make use of water pumps. Already, fuel prices have been increased and we are affected. The increase in electricity charges will further impact on us."
Hiranthi Niluka, Anamaduwa
"We have a small industry. The increase would mean that it will have an impact on our income and we will be affected.
Deepalal Fernando, Puttalam
"I operate a welding shop and fear that the electricity price increases will have an adverse impact on my business."
Consumers to pay for Norochcholai failure
Lanka Viduli Sevaka Sangamaya Convener Ranjan Jayalal told the Sunday Times that losses from the failed Norochcholai coal power project are being passed on to the consumer by way of next month's tariff increase. "According to the proposals, the low income groups are to be the worst affected', he said.
"Losses by various institutions due to political decisions too are being passed onto the public. Night car races and the Deyata Kirula are being held with electricity from the main lines with no payments made," he said.
He said that, even the PUCSL, which has been appointed to look into tariff increases, was a burden on the public, as it does not look into issues of corruption, mismanagement and waste within the CEB. "A high expenditure is incurred to maintain the staff and to provide various perks. Eventually that cost too is passed on to the average consumer", he added.
He said that whenever trade unions resort to strikes due to incidence of corruption or mismanagement, there are a section of the employees manipulated by the State, who also take to the streets to protest and protect them. Mr. Jayalal said that under the proposed hike the percentage increase for high-end users will be less than that for low-end users, by about 180 units.
"The PUCSL will have to re-think about permitting the proposed increase," he said.
Follow @timesonlinelk
comments powered by

Disqus