Giant tarantula that 'stings like a bee' part of north's peace dividend
View(s):

By Malaka Rodrigo

A tarantula almost as big as a dinner plate has been discovered in northern Sri Lanka by a team of researchers who named it after a keen police officer who helped track down live specimens of the giant spider.  The researchers fortuitously happened to be in Mankulam, conducting an island-wide tarantula survey, when a local villager gave them the tarantula he had just killed – a species then unknown to science.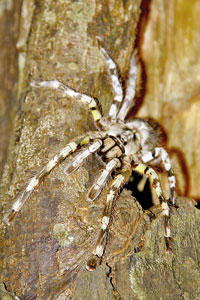 The spider is a smaller member of the Bird-Eating Tarantula sub-species found in South America that can kill animals as large as lizards, mice, birds and small snakes.  Lead researcher Ranil Nanayakkara said his team needed to find live specimens, preferably females and juveniles, to establish whether the Mankulam spider was indeed a species new to science by the researchers.
His team had to comb pockets of jungles in the area, searching every single tree hole and bark peel that could possibly house this elusive species. The researchers finally managed to find a female spider of the species, along with her babies, in the old doctors' quarters of Mankulam hospital.
In gratitude for the help given to them by Mankulam's Sub Inspector of Police, Michael Rajkumar Purajah, Mr Nanayakka and team co-leader Nilantha Vishvantha named the spider Poecilotheria rajaei. The tarantula found in Mankulam has a ventral band on the belly. No other Sri Lankan tarantulas have such a feature. A similar species is found in India but has different markings on the foot and the body.
The team's findings are described in a recent edition of the British Tarantula Journal, in a paper authored by Ranil Nananayakkara, Peter J. Kirk, Salindra Dayananda, G.A. Ganehiarachchi, Nilantha Vishvanath and Tharaka Kusuminda. The tarantula find could be counted as part of the peace dividend following the end of the civil war, Mr. Nanayakkara said, as his team stumbled across the discovery after entering the northern area in October 2009, a few months since the end of the conflict.
Tarantulas are usually arboreal creatures that inhabit bark peels, naturally occurring tree hollows and are also found under rocks, decaying trees and in cracks in brick walls. During monsoons, they display an unlucky tendency to enter human dwellings that border forested areas, whereupon they are promptly killed by frightened villagers who believe the "diwi mukuluwa" bite is deadly. Literature states, however, that the venom of most tarantula species is similar to the venom of a bee sting.
Mr. Nanayakkara says many people are under the impression that when a tarantula bites, the victim curls up and draws in the arms and legs in a manner of a spider trying to hide. This is, in fact, due to the muscle spasms and pain that a victim experiences after a bite, he said, adding that none of the tarantulas found in Sri Lanka had deadly bites.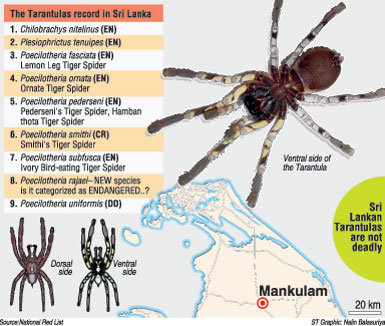 He also points out that six sub-species of the Sri Lankan Poecilotheria tarantulas are under threat of extinction. Five of them are listed as "Endangered" while the sixth, P. smithi, is "Critically Endangered". The research team is endeavouring to gain more information on the population sizes of these species.
"The results indicate that the Sri Lankan tarantulas are in dire need of protection, and if stringent measures are not taken many of them will become extinct," warns Mr. Nanayakkara. The current rate of deforestation and urbanization brought manifold threats. The tarantulas recorded in Sri Lanka are: Chilobrachys nitelinus; Plesiophrictus tenuipes; Poecilotheria fasciata (Lemon Leg Tiger Spider); Poecilotheria ornata (Ornate Tiger Spider); Poecilotheria pederseni (Pederseni's Tiger Spider/ Hambanthota Tiger Spider);
Poecilotheria smithi CR (Smithi's Tiger Spider); Poecilotheria subfusca EN (Ivory Bird-eating Tiger Spider); Poecilotheria rajaei (new species, yet to assessed); Poecilotheria uniformis.  There is a dire need for a biodiversity survey in the war-ravaged territories in the north.
Prof. Devaka Weerakoon, co-ordinator for animal groups in the National Red List 2012 of Sri Lanka on Conservation Status, recently said some of the animal groups common in the north have received a revised status based on new data. There are birds specific to the area, he said. The northern part of the country could be considered a special avi-faunal zone with several birds such as the Black Kite found only there. The Black Drongo, Grey Partridge, Long-tailed Shrike, Golden-backed Woodpecker, Indian Courser are other unique representatives of the region. There can be other smaller animals unique to this region, he said.
Conservationists warn that with many areas of the north due to be opened up for development, some of the unique animals and plants specific to the north would be affected. Peace brings mayhem for the environment under the name of development, they say. The north's development should be carried out in a planned manner so as not to repeat the environmental destruction recorded in other areas. In this way, the benefits of peace would become available to every creature.
Follow @timesonlinelk
comments powered by

Disqus