Lankan students turned out/refused lodgings in TN
View(s):

Colleges close indefinitely as anti-SL campaign gains momentum fuelled by false, biased and politically charged media reports

By Namini Wijedasa

Sri Lankans forced to vacate college hostels due to student protests in Tamil Nadu (TN), are looking for alternate accommodation in private homes—and not always finding it easy.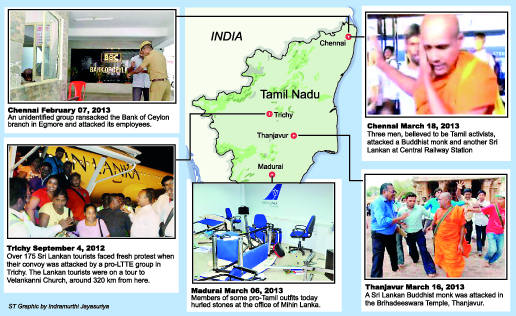 One Sri Lankan student from an Arts college in Chennai, yesterday approached an Indian family for paid lodging. She was turned way as she was Sri Lankan. She was also informed that another Sri Lankan student who lived there had been asked to vacate the previous day.
"It doesn't seem to be dying down," she said, requesting that her identity be withheld. Arts and Science colleges throughout TN remained closed indefinitely yesterday. It is now feared that examinations, scheduled for April, will also be postponed.
Eight students of Loyola College in Chennai, launched a fast-unto-death (later called off) on March 8, demanding justice for Sri Lankan Tamils. The protests spread to other Arts and Science schools, prompting their closure.
"Our final exams were scheduled for the first week of April, but now, those too have been put off, and everything hangs in the balance or, rather, I should say, imbalance," this student told the Sunday Times via email. "No one is sure when college will start, when we will have our exams, when we can return home and so on."
Worse still, the TN Government on March 15 asked all students to vacate college hostels by 9 p.m. that night. This not only inconvenienced foreign students, it caused great difficulty to Indians from distant towns and villages. Students from North-East India must travel three to four days just to get home.
"It's a huge setback and hassle," the student asserted. "Overall, it's very disappointing that politics has officially seeped into the fabric of education."
Like others, she took precautions not to give away her nationality in public, because she didn't know how people on the street would react. "I feel a tinge of uneasiness at the very thought of anyone finding out that I'm Sri Lankan," she explained.
The student said she had seen many posters of Velupillai Prabhakaran in Chennai. She had also observed distortion in the Indian media about the situation in Sri Lanka. She felt Sri Lankan students should take precautions. "But I haven't been subjected to any violence so far, and hopefully, it will stay that way," she said.
Sri Lanka's Deputy High Commissioner in Chennai, Ameer Ajwad said the mission had no reports yet of violence against students. "We have asked the police to monitor the situation and to give protection if necessary, but so far, we have no incidents of threat or attack," he told the Sunday Times by telephone. He also said there were fewer Sri Lankan students in Chennai than there were in capitals such as Bangalore and New Delhi.
Meanwhile, student and political protests are continuing. On Tuesday, Sri Lanka's Ministry of External Affairs issued a statement condemning assaults carried out "by extreme elements with vested interests in attempting to tarnish our friendly relations with India". The Ministry asked Sri Lankans to exercise caution when undertaking visits.
Two Sri Lankan Buddhist monks were assaulted in TN on March 16 and 18. One of them was following a programme of academic research in India. The other monk was with a group of pilgrims returning to Sri Lanka at the end of a tour. Three persons have been arrested and remanded over the attacks.
Sri Lanka's High Commissioner to India, Prasad Kariyawasam warned that extreme elements in India were trying to create a backlash against Tamil and Indian interests here. They arrange media publicity before their assaults, and circulate the footage widely via internet. Journalists were present for the attacks on both Buddhist monks.
These groups were spearheaded and financed by pro-LTTE diaspora in Britain, USA and Canada, Mr. Kariyawasam said. "They want to cause a rupture between India and Sri Lanka, creep in and use India as a strategic base to promote Eelam," he pointed out. He urged Sri Lankans not to succumb to such provocation. "We need to be very mindful about what their plan is," he stressed.
"For those planning trips to Chennai, it is better to postpone it," said Mr. Ajwad, stressing that arrangements were in place to protect Sri Lankan groups already in the country. "I should say TN police are cooperating well," he said. "They are doing their best. While it is difficult to give individual protection to Sri Lankans, they have deployed security at airports, railway stations and other places."
Mr. Ajwad said his office was coordinating the safe passage of pilgrims already in India, and who were travelling through Chennai. But tour operators are being advised not to send groups at the moment.
Diplomats had expected the tempo of demonstrations in TN to decrease, once US-led resolution on Sri Lanka was passed at the UN Human Rights Council. According to Indian news reports, this hasn't happened.
Fuelled by the Marumalarchi Dravida Munnetra Kazhagam (MDMK) and Dravida Munnetra Kazhagam (DMK) political parties, there have been agitations throughout the state. Among the participants are students, women activists, lawyers and politicians. Two DMK members even fainted in the Rajya Sabha while shouting slogans against the Sri Lanka Government.
The Sri Lankan student said many demonstrators were provoked by what the media fed them—biased, distorted reports that were sometimes "downright shocking. I think people have the right to protest and they should protest," she stressed. "But the current protests are fueled by a lot of biased reporting and false messages. So, I personally feel that it is orchestrated to a great extent to put pressure on the Indian Government to act against Sri Lanka."
"Those affected by it, at the end of the day, are their own people," she said. "Not anyone else."
TN attacks bring protestors to the streets here
By Aanya Wipulasena
Several nationalist groups held protests in Colombo last week over the attacks on two Buddhist monks in India.
On Tuesday, around 200 members of Sinhala Rawaya marched to the Indian High Commission from the Liberty Plaza roundabout in Kollupitiya. The demonstrators—predominantly Buddhist monks and students—handed over a petition to the High Commission requesting the Indian Government to prevent attacks on monks, pilgrims and students.
There was tension when police tried to disperse the demonstrators who were disrupting traffic along Galle Road. Similar scenes were observed throughout the week with protest-after-protest causing heavy vehicular congestion.
The reason for the agitation was the assault of two Buddhist monks in Tanjavur and Chennai, India. One prelate was a pilgrim while the other was following a course of study. "As Buddhists, we have a right to visit the birthplace of the Buddha," a protestor said adding, "We condemn attacks on our Buddhist monks by anti-Buddhist rioters."
"Stupid Karunanidhi, take off your dark glasses and look at the North and East of Sri Lanka. See how people live in peace and harmony," read one of the many placards carried by protestors. Ven. Magal Kande Sudaththa Thera, one of the leaders of Sinhala Rawaya, said many monks were currently on pilgrimage in India while others had gone there for study programmes. They were forced to disguise themselves to escape the wrath of Indian rioters.
"We ask the Indian Government to provide security to our people in India, especially in the South," he said. "Some rioters are going from bus to bus in search of Buddhists. This has to stop."
"LTTE cadres who slaughtered many civilians and Buddhist monks are enjoying the facilities provided by the government after rehabilitation," said Ven. Akmeewewa Dayarathana Thera. "When the situation is such in Sri Lanka, we regret that Buddhists are being targeted in this manner in India."
The Jathika Sanga Sammelanaya—or the National Council of Sanghas—held a news conference the same day. They urged the Sri Lankan Government to ban further travel to Tamil Nadu.
The Ravana Balaya group also marched to the Indian High Commission in protest on Wednesday, while one of its representatives held a discussion with Indian High Commissioner Ashok K. Kantha. "Is this the non-violence that Mahatma Gandhi preached?" they asked, holding placards and chanting slogans.
Ven. Iththakande Sadhdhatissa Thera, the convener, said his group wanted a clear commitment from Mr. Kantha regarding the attacks. If a favourable reply was not forthcoming, they would continue with their protests. The same day, around 150 Tamil businessmen from Pettah walked in peaceful procession from Galle Face to the Indian High Commission. They wanted to raise awareness about the situation in Tamil Nadu. This group, too, handed over a petition to the Indian High Commission calling for an end to the attacks on Buddhist monks and laypersons in Tamil Nadu.
Follow @timesonlinelk
comments powered by

Disqus