CPC to cut losses with stricter credit lines to State sector
View(s):

Fuel purchases on govt.-to-govt. annual contracts to avoid sudden price hikes and ensure quality 

By Damith Wickremasekara

The recurring losses of the Ceylon Petroleum Corporation (CPC) prompted the introduction of new regulations on providing credit to State institutions, Petroleum Industries Minister Anura Priyadharshana Yapa said. "The CPC is compelled to pay for huge loans to two State banks, by continuing to provide subsidised fuel to the Ceylon Electricity Board (CEB) among other State institutions," he said.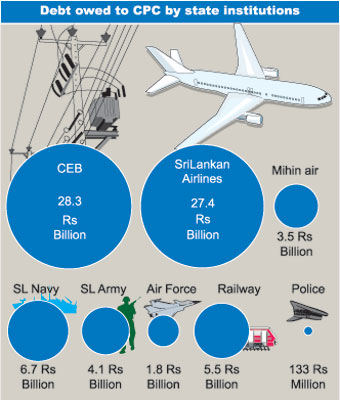 "We have introduced a new system to grant credit, as we cannot operate under the old system," he said. He said that, under the new system, institutions with no revenue, will have their supplies curtailed after they obtain their annual quota, while strict controls will be imposed on institutions which earn a revenue.  "When State institutions with no revenue, exhaust their fuel quota, they will have to get a supplementary estimate passed in Parliamen, while those institutions with a revenue, will have to open Letters of Credit on their own, if they fail to pay the CPC dues," he added.
He said that the objective was to ensure that the CPC's balance sheet improves. He said the decision was taken following discussions with Treasury Secretary Dr. P.B. Jayasundara and hopes to continue with the system continuously. He said that another issue confronting the CPC he intends to deal with has been allegations of importing substandard fuel.
"We should deal with the best organisations in the world. It is particularly advisable to deal with state institutions of the respective countries. We have discussed these plans and hope to establish a system for purchases, as well as to maintain quality," he added. "We intend to have long term contract purchases to avoid being subject to sudden increases,'' he added.
He said that expenditure on spot purchases of fuel has increased due to the impact of US sanctions on Iran, and one way of overcoming it was to have annual contracts. "Under these terms, we will gain concessions when there are price increases," he added.He said that usually purchases are made on tenders, but instructions have been given to deal with the larger companies.
"We will prepare a list of suppliers which could supply fuel at a lower rate," he said. Mr. Yapa said that the programme to lay pipelines from Colombo Port to Kolonnawa is continuing. "Eleven companies have submitted tenders. We will select the companies soon and continue with the programme," he said.
He said that there were also plans to open a second refinery, for which, a feasibility study has already been concluded. "However, we have not addressed issues pertaining to financing the project and its technical aspects," he added.
Follow @timesonlinelk
comments powered by

Disqus