Explosion of colour on a journey of exploration
By Duvindi Illankoon
An exhibition of paintings by Vajira Gunawardena

View(s):
Walk into the Paradise Road Gallery and you will be confronted by 'Reborn in Virtual Fiction World', an exhibition of paintings by up-and-coming artist Vajira Gunawardena. An exploration of contemporary mass culture and its relation to the mental and spatial construction of metaphysics, it will be open to the public till October 6.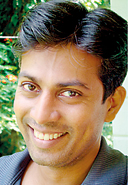 "At its core, drawing is still what it has been since pre-historic times," ventures the artist, on the almost magnetic pull art holds for him. "It brings together man and the world. It lives through magic. My art is an expression of who I am." Vajira's paintings are characterised by their stark white figures surrounded by vibrant splashes of colour.
A strong believer in an academic base for the talent he was blessed with, Vajira has a degree in Fine Arts from the Institute of Aesthetic Studies, University of Kelaniya. "My art is strongly non-academic," he says, explaining that his style of drawing is certainly not to be confused with the traditional form of art.
Vajira has been an integral part of many local and international exhibitions, being commissioned by companies and art collectors to create for their collections. This particular showing will be a threefold one themed under 'Modern Citizen', 'Reborn in Virtual Fiction World' and 'Crisis of Hegemony'.
Follow @timesonlinelk
comments powered by

Disqus