A beauty queen's crusade
By Duvindi Illankoon
Miss World-Canada Tara Teng speaks to the Sunday Times of her passion for activism
View(s):
It all began when Tara Teng moved into a new neighbourhood in her homeland of Canada. A girl in the area had been a victim of human trafficking. The news was a shocking one for the sheltered young girl of 18. "I realized that if it could happen in a country like Canada, it could happen anywhere in the world," she says, remembering the horrifying incident that marked the beginning of a six-year crusade against human trafficking.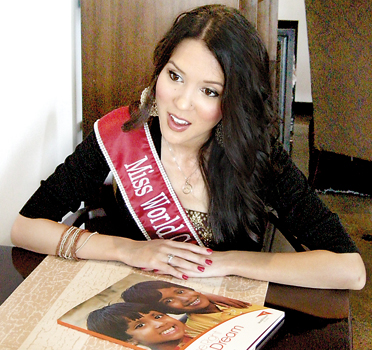 Now the 24-year-old is Miss Canada for Miss World and uses her title to promote her work in the arena of human rights activism and abolition of slavery. As a Goodwill Ambassador for World Vision in Canada, she is down in Sri Lanka this week 'to learn' from those she meets. Visiting the World Vision development programmes in Bogawanthalawa and Thanamalwila, she speaks eloquently of her stay in the country and the work she holds so dear to her heart.
"I know that my cause is not one that many people would pick because it's such a grey area," she says. "But I strongly believe in the right of every human being to live a beautiful life no matter where they are from. You might say I'm just another pretty face trying to make a name for myself but I was an activist way before I became a beauty queen and that's what matters. If I can do something to change the situation for the millions of people who suffer because of human trafficking, that's enough." Her pageant title has been an important stepping stone in creating more awareness about the issue, she adds.
Multicultural not just at heart, Tara is of East Asian origin, though a citizen of Canada. Her own family's struggle with poverty and gender equality in early years was another reason that prompted her to get so involved in social activism. Her excursion to Sri Lanka is part of a tour she is doing in partnership with World Vision; having visited Cambodia and Thailand she was down in Sri Lanka to visit two of the many communities that World Vision works with.
"I heard great things about Sri Lanka even before I came," she said, smiling. "And I'm so looking forward to meeting these children who have already stolen my heart with their stories." The young activist is full of praise for World Vision's long-term partnerships with the communities they support and hopes to visit Sri Lanka again in the near future.
Follow @timesonlinelk
comments powered by

Disqus