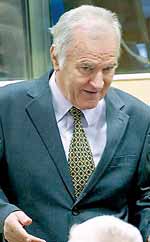 Defiant: Ratko Mladic
pictured at the Hague court this week
In a show of breathtaking contempt and defiance, the man behind the Srebrenica massacre taunted survivors and the families of victims with a chilling cut-throat gesture yesterday. At the opening of his war crimes trial in The Hague, Ratko Mladic stared at Muslims in the packed public gallery and ran his hand across his throat.
The 70-year-old former Bosnian Serb general, dubbed the Butcher of Bosnia, is accused of orchestrating the worst massacre in Europe since the Second World War. He faces life imprisonment for the slaughter of 8,000 unarmed Muslim boys and men in 1995.
On arriving at court yesterday he gave a thumbs up and clapped. And after the cut-throat sign, the judge was forced to halt proceeding briefly to order an end to 'inappropriate interactions'.
© Daily Mail, London