CAPE CANAVERAL, Fla., May 18 (Reuters) An Obama administration plan to cut the cost of space flights faces a key test on Saturday when a privately owned rocket lifts off for a practice run aimed at the first private docking at the International Space Station.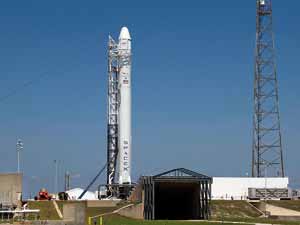 The SpaceX Falcon 9 test rocket is being prepared for launch from Complex 40 at the Cape Canaveral Air Force Station in Florida (Reuters)
Space Exploration Technologies' Falcon 9 rocket and Dragon capsule are scheduled for launch at 4:55 a.m. EDT (0855 GMT) from Cape Canaveral Air Force Station in Florida. Meteorologists expect good conditions for a launch, but if weather or technical problems force a delay, Falcon 9's next opportunity to fly would be on Tuesday.
If all goes as planned, the company, also known as SpaceX, would become the first private company to reach the $100 billion outpost, which orbits about 240 miles (390 km) above the Earth. "It is, by all accounts, an important step, bordering on a giant leap, for commercial space," said Michael Lopez-Alegria, a former NASA astronaut and space station commander who now heads the Commercial Spaceflight Federation, a Washington-based industry association.
If Saturday's launch is successful, the Dragon capsule would reach the space station on Tuesday, following a day of orbital maneuvers and equipment checks to make sure the craft can be controlled.
"This is a test flight. NASA views test flights primarily as learning opportunities," said Phil McAlister, director of the agency's commercial spaceflight program.
Since the space shuttles were retired last year, NASA has been dependent on partners Europe, Japan and especially Russia to fly to the station. Instead of building a shuttle replacement, the U.S. space agency is spending about $3 billion a year on a new rocket and capsule to send astronauts to the moon, the asteroid belt and eventually to Mars.
To reach the station, NASA is investing in five U.S firms -SpaceX and Orbital Sciences Corp for cargo transport; and SpaceX, Boeing, Sierra Nevada Corp, and Blue Origin, a startup owned by Amazon founder Jeff Bezos, for the delivery of passengers.