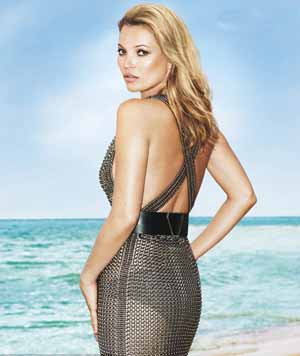 Chain reaction: Kate Moss poses on the beach in Jamaica for the latest issue of Harper's Bazaar
Given that most models walking the runways these days are half her age, the fact that Kate Moss is still beating them to high-profile fashion editorial jobs is nothing short of remarkable. The supermodel, 38, has landed the cover and a lengthy spread in the new June/July issue of U.S. Harper's Bazaar.
The shoot, which was shot by photographer Terry Richardson and took place in Jamaica, sees her showcase the best of high summer fashion. Proving her body has never looked better, Ms. Moss wears a belted Yves Saint Laurent dress to the beach at Laughing Waters and the home of the late playwright Noël Coward.
The sheer chainmail fabric clings to her frame, now distinctly more curvy than it was two decades ago, when she became the face of the 'heroin chic' trend of the Nineties. Another look returns to Calvin Klein, the label she fronted in her early days as a model, as she strikes a pose in a woven top, bandeau and bottoms from the label.
A nod to her love of clothing from decades past, the stylist has accessorised the ensemble with a vintage hat. It makes for a sombre seaside look, but the magazine insists that 'black at the beach has never felt so right'.
The hue continues throughout the fashion spread with a Dolce & Gabbana lace bodysuit and Herve Leger swimsuit.
© Daily Mail, London