WASHINGTON, May 19, (AFP) China is exploiting Western commercial technology, carrying out aggressive cyber espionage and buying more anti-ship missiles as part of a steady build-up of military power, the Pentagon said.
Beijing is working to take advantage of "mostly US" defense-related technologies in the private sector as part of a long-running effort to modernize the country's armed forces and extend China's reach in the Asia-Pacific region, the Pentagon wrote in a report to Congress.
China unveils stealth fighter that looks like US jet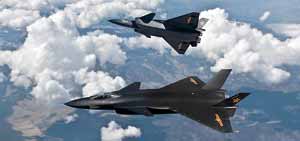 By Eddie Wrenn
Flying over the skies of Chengdu in southwest China, the Chinese's latest stealth plane - the J-20 Might Dragon - is a testament to China's growing prowess in military technology.
The debut flight of the plane may serve as a warning to the U.S. air force, which has been plagued by a list of problems in their jets - including the revelation that some of their jets have a faulty oxygen system which have slowly been poisoning their pilots.
Sightings of the black plane taking off have again led to claims that the plane was developed off the back of stolen U.S. or Russian plans, a claim strongly denied by China.
© Daily Mail, London
"One of the PRC's (People's Republic of China) stated national security objectives is to leverage legally and illegally acquired dual-use and military-related technologies to its advantage," it said.
And China, which has the world's second largest defense budget behind the United States, "openly espouses the need to exploit civilian technologies for use in its military modernization" and dual-use technology transfers could have a "substantial" cumulative effect in boosting the country's army.
The Pentagon warned that "interactions with Western aviation manufacturing firms may also inadvertently benefit China's defense aviation industry."European aerospace giant Airbus opened a production line for the A320 aircraft in China in 2009. The Defense Department pledged to prevent exports of advanced technologies that could be diverted to China's military.
Echoing recent warnings from intelligence officials, the Pentagon blamed China for "many" of the world's cyber intrusions over the past year that have targeted US government and commercial networks, including companies "that directly support US defense programs," it said.
The report warned that "Chinese actors are the world's most active and persistent perpetrators of economic espionage," and predicted that those spying efforts would continue, posing "a growing and persistent threat to US economic security."China's investments in cyber warfare were cause for "concern," said David Helvey, acting deputy assistant secretary of defense for East Asia and Asia Pacific Security Affairs.
Beijing was clearly "looking at ways to use cyber for offensive operations," Helvey told reporters, adding that there was no sign that China was ramping up digital activities. The American military has long worried that China could potentially limit the reach of US naval ships in the western Pacific with new weapons, and the Pentagon report underlined those concerns, pointing to Beijing's growing arsenal of missiles.
"It is also acquiring and fielding greater numbers of conventional medium-range ballistic missiles (MRBMs) to increase the range at which it can conduct precision strikes against land targets and naval ships, including aircraft carriers, operating far from China's shores beyond the first island chain," said the report.
China was pouring money into advanced air defenses, submarines, anti-satellite weapons as well as anti-ship missiles that could all be used to deny an adversary access to strategic areas, such as the South China Sea, the report said.
US strategists -- and some defense contractors -- often refer to the threat posed by China's so-called "carrier-killer" missiles but Helvey said the anti-ship weapons currently have "limited operational capability."China's military budget officially reached $106 billion in 2012, an 11.2 percent increase.
But the US report said China's defense budget does not include major expenditures such as improvements to nuclear forces or purchases of foreign-made weapons. Real defense spending amounts to $120 to $180 billion, the report said.