THIRUVANANTHAPURAM, India, May 18(AFP) Indian police on Friday formally charged two Italian marines with murder after two fishermen were shot dead off the southwestern coast, leading Italy to recall its ambassador.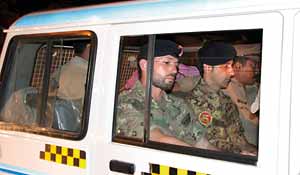 Italian marines Salvatore Girone and Massimiliano Latorre are escorted to jail in Kochi (AFP)
The charges against the pair of marines, who say they mistook the fishermen for pirates, come despite Italy warning New Delhi against just such a move. The Italian government had expressed regret and paid compensation of 144,000 euros ($190,000) to the families of Selestian Valentine, 45, and Ajesh Pinky, 24, but that has done little to stop the diplomatic row escalating.
Massimiliano Latorre and Salvatore Girone, who are being held in custody in the state of Kerala, were deployed as guards on an Italian oil tanker in the Indian Ocean when they shot dead the two fishermen on February 15.
"Our investigation has been completed and we have filed the charge-sheet" in the court, M.R. Ajithkumar, head of Kerala's special police investigation team, told AFP. Italy has called the detention of the marines illegal and challenged it before India's Supreme Court.
In response to the charges, the foreign ministry in Rome said: "The Italian ambassador to New Delhi has been recalled to Rome for consultations on the matter of the marines."Rome says the marines should be prosecuted in their home country because the shootings occurred on an Italian-flagged vessel in international waters, but India says they took place in waters under its jurisdiction.