From a former supermodel with a reputation for partying with rock stars to a twice-divorced mother the French vote for president will see more than just economic policies change. Valerie Trierweiler, 47, the partner of Mr Hollande, will become the first unmarried 'Première Dame' in history to enter the Elysee Palace on the arm of the country's most powerful man.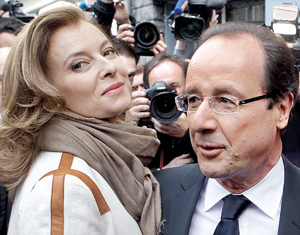 Ms Trierweiler, the partner of Mr Hollande, has become the first unmarried 'Premier Dame' in French history
The feisty magazine journalist was revealed as Mr Hollande's lover when he separated from the mother of his four children, the politician Segolene Royal, with whom he lived for 30 years. She had gained the nickname 'Rottweiler' after she slapped a colleague on Paris Match who said something she deemed sexist.
When the magazine put her on its cover under the headline 'Francois Hollande's charming asset', she tweeted: 'Bravo Paris Match for its sexism ... my thoughts go out to all angry women.' But despite her reputation, she has said that she intends to be more low key than her predecessor Carla Bruni.
'I will stay among those accompanying,' she said in an interview before the election. 'I will bend to protocol. But it will be for me to find my place. First Lady is not something I've ever dreamed of. What I'm scared of is losing my liberty.
'I am not seeking notoriety and I am not seeking to grab the limelight.' She has also voiced concerns at the prospect of losing her independence because of her partner's new role - and so it seems a wedding is probably the last thing on the to-do list for the new power couple.
But as Hollande, 57, looks to build on his victory over Sarkozy with his anti-austerity reforms, it seems inevitable the French public will also begin to wonder if he will do the decent thing and propose.
Trierweiler says she and Hollande first met 23 years ago when she was a political reporter. He was married with a family, but otherwise leading a fairly routine existence.
Hollande makes much of his roots in Rouen, the dull Normandy city that reflects his desired provincial image as the hard-working son of a doctor father and social worker mother. In reality, his family lived in the upmarket Bois-Guillaume 'heights' of Rouen - until forced to move as a result of his father Georges's extreme Right-wing politics.
Georges was exposed as a close supporter of a former Vichy official who stood for president in a campaign managed by Jean-Marie Le Pen, later infamous as the Holocaust-denying founder of the Front National. The ripples from this revelation led Georges to sell the family home and his clinic in 1968, when his son was 14. He retrained as an estate agent and moved to Neuilly-sur-Seine, the Parisian suburb that is Sarkozy's fiefdom.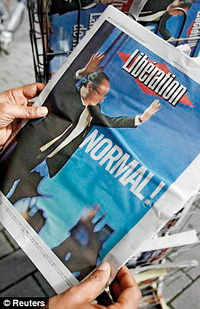 Celebration time: French newspaper Liberation hailed the victory of 'President Normal'
The move was so rapid his father binned his young son's childhood possessions, including a cherished collection of toy cars. Such a background left its mark. His biographer Raffy traces Hollande's dislike of confrontation, his desire to compromise and his self-deflecting humour back to a childhood need to avoid his father's anger and the brutal corporal punishment meted out at his strict school.
'Contrary to what his detractors believe, the man is neither cunning nor cynical,' wrote Raffy. 'He is simply in a posture of avoidance.' He was, however, very close to his mother, Nicole, who stood as a Socialist candidate in Cannes in 2008. She died the following year, and Hollande has told friends he will dedicate his victory to her if he wins.
After moving to Paris, the preppy Neuilly-sur-Seine Lycee propelled the hard-working teenager into the École Nationale d'Administration (ENA), which churns out the elite cliques dominating French politics, business and society.
In 1974, he spent the summer in the U.S. after winning a business school grant, driving from New York to San Francisco as Richard Nixon's presidency crumbled amid the Watergate scandal. He studied the invention of fast food, concentrating on McDonald's and Kentucky Fried Chicken, those symbols of globalisation - and concluded they would invade France, too. 'I could have made a fortune in cheeseburgers,' he once told the New York Times. 'But I finally chose politics.
It was while he was at the ENA that Hollande fell for Ségolène Royal, a young radical. They met at a student party and remained together for 30 years. After they both became advisers to the Socialist President Francois Mitterrand in the early Eighties, Hollande became an MP in south-central France and rose to become head of the region. In 1995, Hollande was appointed Socialist Party spokesman and, two years later, elected head of the party, a position he held for 11 years.
France's Sarkozy faces slew of probes after immunity ends
PARIS, May 11(AFP) Outgoing French leader Nicolas Sarkozy will face a slew of legal probes into corruption and campaign financing violations after he leaves office next week and loses his presidential immunity.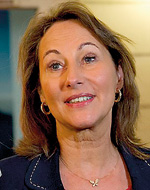 Segolene Royal
The outgoing leader has denied any wrongdoing in a raft of cases, but the conviction last year of his predecessor Jacques Chirac on graft charges has shown that French courts are now willing to go after former leaders.
The most immediately dangerous case for Sarkozy involves a series of overlapping inquiries surrounding alleged illegal campaign financing by L'Oreal heiress Liliane Bettencourt, France's richest woman.
Magistrates are investigating claims that Bettencourt's staff handed over envelopes stuffed with cash to Sarkozy aides to finance his 2007 campaign, with her former book-keeper testifying to one 50,000 euro ($65,000) donation.
Under France's electoral code, individual election campaign contributions may not exceed 4,600 euros.
Another of the most high-profile cases has been the so-called "Karachi Affair", in which two close aides to Sarkozy have been charged by judges investigating alleged kickbacks on a Pakistani arms deal.
And, in more serious but harder to prove allegations, magistrates are probing whether a 2002 Karachi bombing that killed 11 French engineers was revenge for the cancellation of bribes secretly promised to Pakistani officials.
The Socialists pounded Sarkozy over the scandals during the election campaign, with Segolene Royal, Sarkozy's Socialist opponent in the 2007 race, saying he was desperate to hold on to office if only to dodge prosecution.
Grappling with the inflated egos and vicious factionalism of so-called comrades, he was viewed as someone who ducked difficult decisions and led from behind. 'He is Mr Conciliator, Mr
Compromise, Mr Consensus,' said one old friend. With his pudgy features and portly frame, he was mocked by television satirists as 'Flanby' (a brand of caramel pudding) and Marshmallow Man.
Then came the blow of the 2007 presidential election. Despite his position as party chief, he failed to win the nomination and had to suffer the ignominy of his long-time partner Ségolène Royal seizing the crown in his place, only to lose against Sarkozy.
Months later, Royal announced their separation; they had actually split the year before, since Hollande was having an affair with Trierweiler, a journalist on the magazine Paris Match. The twice-divorced Trierweiler once slapped a colleague who said something she deemed sexist. When her own magazine put her on its cover under the headline 'Francois Hollande's charming asset', she tweeted: 'Bravo Paris Match for its sexism .?.?. my thoughts go out to all angry women.'
Royal and Hollande are no longer on good terms - unsurprisingly, since he calls his new partner 'the love of his life' in interviews. 'Can anyone recall anything Francois Hollande has done in 30 years?' Royal asked bitterly at one point, though she has since grudgingly backed him. With the help of The Rottweiler, this campaign saw the emergence of a new Hollande.
He lost weight, sharpened his suits and ditched his old-fashioned horn-rimmed glasses. He started to mimic the mannerisms, the talk, even the walk of his hero Mitterrand. Last year the eternal backroom boy was almost a joke, with just three per cent support in the polls. 'Can you imagine Francois Hollande as president of the republic?' said Laurent Fabius, a former Socialist prime minister. 'You must be joking.'
Then came the downfall of the party favourite, the sexually incontinent Dominique Strauss-Kahn, and Hollande seized the moment he had been preparing for all his life, seeing off five rivals, including Royal.
The defining day came in January, in his first big rally, when he declared his desire to 'reinvent the French dream' to 15,000 ecstatic Socialists. His forceful oratory and fierce attack on capitalism took even his biggest fans by surprise.
'My real adversary has no name, no face, no party,' he thundered. 'It will never be elected, yet it governs - the adversary is the world of finance.' The racy rhetoric was backed by an old-fashioned Socialist programme of higher public spending and hefty taxes on businesses and the rich. Last night David Cameron, who snubbed Mr Hollande during a recent visit to the UK, phoned the new president to congratulate him on his victory.
A Downing Street spokesman said: 'They both look forward to working very closely together in the future and building on the very close relationship that already exists between the UK and France.'
Labour leader Ed Miliband, who met Mr Hollande during his London visit, also sent his congratulations.
'This new leadership is sorely needed as Europe seeks to escape from austerity, and it matters to Britain,' he said.
'In his campaign, he has shown that the centre-Left can offer hope and win elections with a vision of a better, more equal and just world.' Mr Holland wants a change to strict rules which dictate how much member states can spend, without which most observers believe a new European economic crisis is inevitable.
He has pledged to slap a 75 per cent tax on those earning more than one million euros a year, or around £850,000. The move is expected to lead to an exodus of 'le super rich' - with many of them likely to head to London where the top rate of tax will be 45p.
Mr Sarkozy and Germany's Angela Merkel spearheaded the cost-cutting treaty, and many have worried about potential conflict within the Franco-German 'couple' that underpins Europe's post-war unity. Today Standard & Poor's said that the Mr Hollande's election would not have an immediate impact on France's AA+ credit rating.
But they said there is 'at least a one in three chance' that it will be lowered before the end of 2013. City analysts said that while stock markets had expected a Hollande win, the results in Paris and Athens could tip the strained eurozone back into turmoil. Mr Hollande claimed that many voters in Europe would greet his election with relief.
'Europe is watching us, austerity can no longer be the only option,' he said. Struggling to contain his emotions, Mr Sarkozy said: 'I did my best to protect the French people during the events of the past five years, so that France could come out stronger from this crisis.' He finished: 'You are the eternal France, I love you.' He is the 11th European leader to be swept from office since the start of the economic crisis in 2008.
© Daily Mail, London