CAIRO, May 12 (Reuters) Egypt's presidential election, set to be the freest it has ever had, began for citizens abroad on Friday after a caustic televised debate between two candidates that produced no clear favourite to lead the most populous Arab nation.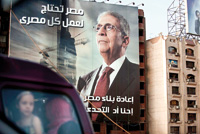 A vehicle drives past a billboard in Cairo advertising former Arab League General Secretary and presidential candidate Amr Mussa on May 8, 2012. The upcoming presidential election is scheduled for May 23 and 24 and a run off for June 16 and 17 if there is no outright winner in the first round. (AFP)
Egyptians who overthrew President Hosni Mubarak as uprisings swept the Arab world last year are savouring the spectacle of politicians competing for their votes and the streets are abuzz with argument over who is the best man to tackle poverty and corruption and uphold their new-found freedoms.
With no obvious winner for now, the fewer than 1 million expatriates registered to vote in consulates between May 11 and 17 may help swing the election. Recent polls suggest the race is wide open, with many citizens yet to make up their minds.
Expatriates who have registered to vote are a minority among
the 6 to 8 million Egyptians who live abroad, mostly in Europe, North America and Gulf Arab states, according to official figures cited by local media. In France, Abd El Aal Shady, 55, an agriculture engineer living in Paris, said he had voted for leftist Hamdeen Sabahy.
"He is the black horse of this presidential election because he is the most famous to have fought the former government since he was a student," Shady said. "If (Amr) Moussa wins, it is catastrophic for the people. It leads to a second revolution."
Hundreds of Egyptians queued in front of their embassy in the Saudi capital Riyadh to cast their votes. "For the first time in my life, I take part in elections, and I don't know how it will end or who will win," said one of them, Mahy Samir.
In Cairo's sheesha (water-pipe) cafes and on Twitter, Egyptians swapped impressions of Thursday night's unprecedented televised stand-off between Islamist Abdel Moneim Abol Fotouh and Amr Moussa, a former foreign minister of Mubarak.
"If you didn't enjoy the debate like me, remember that if someone told you a couple of years ago that there would be a presidential debate, you would have thought it was a sci-fi movie," tweeted Mohamed Diab.
The disorganised build-up to the first-round vote on May 23 and 24 has been marred by deadly street clashes in Cairo and lingering suspicions that the generals now in charge will try to manage democracy from behind the scenes after formally handing over to civilians by July 1.