CARACAS, May 11 (Reuters) Venezuelan President Hugo Chavez strode, sang and gave a rousing speech on Friday in a careful show of vigor after his latest cancer treatment in Cuba fanned rumors he was dying five months before an election.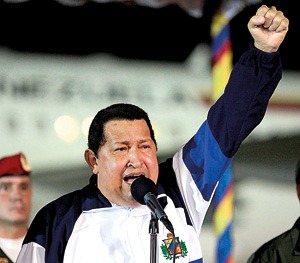 Venezuelan President Hugo Chavez speaks upon arrival in Caracas (AFP)
The socialist Chavez, who had only been seen live in publiconce in the previous month, addressed the nation after flying back from Havana where he has completed six rounds of radiation therapy.
With Venezuelans watching on live TV for any sign of his condition, Chavez walked with relative ease from his plane, hugged ministers, inspected a military guard and improvised a song at the end of a 20-minute speech.
"I can tell you that in the last few days we successfully completed the radiation cycle, as planned by the medical team," Chavez said in a strong voice. "I come with great optimism that this treatment will have the effects we hope for, always asking God to help us and give us the miracle of life to keep serving."
The official line in recent weeks has been that Chavez was out of the public limelight due to the effects of radiation treatment, but is on the road to recovery and will soon begin his re-election campaign ahead of the Oct. 7 vote.
But there is speculation, stoked by leaks from pro-opposition journalists citing sources in Chavez's medical team, that his condition may have turned grave. The implications of that would be enormous for the South American OPEC member nation that Chavez has dominated for the last 13 years without grooming a successor.
Rumors have been flying of a nascent succession struggle among his closest allies. Meanwhile, opposition presidential candidate Henrique Capriles is struggling to win public attention amid the national obsession over Chavez's condition.
Without giving any clues as to the details of his cancer, Chavez said he must continue "rigorously" following medical instructions in coming days.