ATHENS, May 12 (Reuters) Greece's radical leftist SYRIZA party has gained support since Sunday's inconclusive election to become the most popular party, but backing for the anti-bailout group is falling, the second opinion poll since the vote showed on Saturday.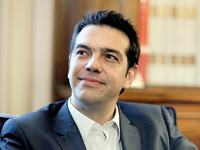 The Greek leader of the Radical Left (Syriza) coalition, Alexis Tsipras (AFP)
The main pro-bailout parties, conservative New Democracy and socialist PASOK, were gaining support, according to the poll by Metron Analysis for the Epenenditis weekly. Greece's political landscape is in disarray after voters humiliated the only parties backing an international bailout keeping the country afloat, leaving no bloc with enough seats to form a government to secure the next tranche of aid.
Backing for SYRIZA stood at 25.5 percent - almost 9 points up on its Sunday result, but down from 27.7 percent in the previous poll on May 10. New Democracy gained slightly, rising to 21.7 percent from 20.3 percent, while PASOK came third with 14.6 percent, up from 12.6 percent.
Support for ultra-nationalist Golden Dawn party, which gained an unprecedented 7 percent of votes in the election, fell to 4.7 percent, still above the 3 percent threshold needed to get into parliament. The leaders of the first three parties have all failed to come up with a proposal to form a government. In a last-ditch attempt to cobble together a coalition, President Karolos Papoulias will summon the leaders of all parties that made it into parliament in a process that could take days.
According to the poll, SYRIZA leader Alexis Tsipras is the most popular candidate for prime minister with 19 percent of votes. New Democracy leader Antonis Samaras came second with 14 percent, while only 11 percent of voters think PASOK leader Evangelos Venizelos is suitable to lead the country.