WASHINGTON, May 11 (Reuters) The United States will resume some military sales to Bahrain, a key Gulf ally facing Iran, despite human rights concerns linked to months of popular protests against the island kingdom's rulers, the State Department said on Friday.
The Obama administration notified Congress that certain sales would be allowed for Bahrain's defense force, coast guard and national guard, although it would maintain a hold on TOW missiles, Humvees and some other items for now, the department said in a statement.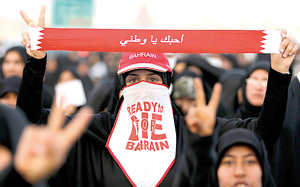 An anti-government protester wears a face mask that reads ''Ready to Die for Bahrain'' as she participates in a march held by Bahrain's main opposition party Al Wefaq (REUTERS)
"We have made the decision to release additional items to Bahrain mindful of the fact that there are a number of serious unresolved human rights issues that the government of Bahrain needs to address," the statement said.
The State Department did not give a total value for the items being released but emphasized that the equipment being approved was "not used for crowd control" as the majority Shi'ite community continues to protest against the Sunni royal family following a crackdown last year.
U.S. officials said among the sales now allowed to go forward would be harbor security vessels and upgrades to turbo-fan engines used in F-16 fighter aircraft as well as legislation which could pave the way for a future sale of a naval frigate.
Items still on hold, besides the missiles and the Humvees, include teargas, teargas launchers and stun grenades. The decision was criticized by Senator Patrick Leahy, who wrote a provision Congress passed last year requiring the administration to consult lawmakers before allowing sales of teargas and other crowd-control items to governments of countries undergoing democratic transition in the Middle East.
"While I am pleased that the administration is continuing to withhold tear gas, small arms and other crowd-control items from the Bahraini security forces, this arms sale sends the wrong message," Leahy, a Democrat, said in a statement.
"The government of Bahrain has yet to respect the Bahraini people's legitimate demands, or to hold accountable its own police and military officers for arresting, torturing and killing Bahraini protesters," Leahy said.
The resumption of military sales follows a visit to Washington this week by Bahrain Crown Prince Salman Hamid al-Khalifa, who met Vice President Joe Biden, Secretary of State Hillary Clinton and Defense Secretary Leon Panetta.
"The Vice President expressed concern about the recent escalation of street violence, including attacks against security forces," the White House said. Biden also pressed on the importance of safeguarding human rights and of government accountability for past abuses, messages that were reinforced by Panetta, the Pentagon said.
In October, the Obama administration delayed $53 million in planned sales to Bahrain pending the outcome of a local investigation into alleged human rights abuses since an uprising began in February 2011.
Bahrain has been the host of U.S. naval headquarters in theGulf for more than 60 years and is seen as a central bulwark for U.S. efforts to deter Iran. Human rights advocates have criticized Washington for its muted response Bahrain's crackdown contrasted with strong U.S. public support for popular protests in Egypt, Tunisia and Syria.
The State Department said Bahrain's government had taken steps to implement reforms but that "the country is becoming increasingly polarized and much work remains to be done."