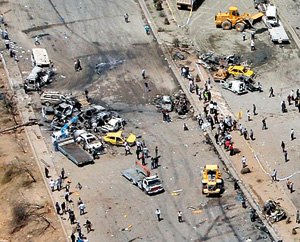 Aerial images released by the state-run Syrian Arab News Agency show some of the destruction caused by explosions in Damascus
BEIRUT, May 12 (Reuters) Syrian forces foiled an attempted suicide car bombing with 1,200 kg (2,640 pounds) of explosives in the northern city of Aleppo on Friday, state television said, a day after two bombs in the capital Damascus killed at least 55 people.
The would-be bomber was killed in the al Shaar district of Syria's largest city which, like Damascus, has seen increasing street protests against President Bashar al-Assad and rising levels of bloodshed after months of relative calm.
Twin bombings in southern Damascus killed 55 people and wounded more than 300 on Thursday, the deadliest attacks since the uprising against Assad erupted 14 months ago, inspired by revolts against autocratic rulers elsewhere in the Arab world.
Al-Nusra claims responsibility
BEIRUT, May 12 (AFP) Al-Nusra Front, an Islamist group unknown before the Syrian revolt, released a video on Saturday claiming responsibility for twin suicide bombings in Damascus that killed 55 people.
The video says the Thursday bombings, the deadliest since the uprising against President Bashar al-Assad's regime erupted in March 2011, were "in response to regime bombing of residential areas in Damascus, Idlib, Hama, Daraa provinces and others." holds, targeting the Palestine branch of the security services."
The blasts further undermined a tattered ceasefire agreement repeatedly violated by the army and rebels since it was brokered by international mediator Kofi Annan four weeks ago. The deal has been overseen by nearly 150 unarmed U.N. observers in Syria.
Syria said the attacks showed that it faced foreign-backed terrorism - an argument it made from the start of peaceful protests against Assad in March last year - while the opposition blamed authorities for the blasts.
Syria's Ikhbariya television showed U.N. monitors inspecting a white mini-van in Aleppo on Friday which an army officer told them had contained enough explosive to kill 500 people. The bloodied body of the van driver lay crumpled in the front seat, behind a windscreen riddled with bullet holes. The officer told the U.N. observers the driver, who he said was not Syrian, was shot before he could detonate the bombs.
Several hours later, an explosion struck close to the ruling Baath Party headquarters in Aleppo, the Syrian Obervatory for Human Rights said. No one was killed by the blast itself but one guard at the headquarters died, apparently in a round of gunfire that followed the explosion, the Observatory said.
There was no claim of responsibility for the Damascus bombings.
Syrian authorities blamed foreign-backed terrorists. Opposition activists denied any involvement. Some analysts have speculated that recent bombings could be the work of al Qaeda-linked Islamists with skills honed by years of activity in Iraq. Protests erupted in several Syrian cities on Friday after weekly Muslim prayers. Opposition activists said security forces fired on demonstrators in Damascus, Homs, Hama and Aleppo.
Video footage that activists said was filmed in Aleppo on Friday showed hundreds of demonstrators marching and chanting "peaceful, peaceful", before scattering as the sound of gunfire rang out.
The Syrian Observatory for Human Rights said one person was killed at the Aleppo protests and another nine civilians were killed across the country on Friday.
The bombings in Damascus, it said, had been just one of a series of attempts by Assad's security forces aimed at scaring off Annan's international observers. But Syria's Lebanese ally Hezbollah said on Friday the blasts showed that Syrians faced a stark choice.
Hezbollah leader Sayyed Hassan Nasrallah said either they would follow Assad's "reform programme", which included a parliamentary election boycotted by the opposition, or they would suffer "the suicide bombings which we have seen in Iraq in recent years."