The curtain for the annual 30 over inaugural 'Battle of the Greens' Big Match cricket fixture between two of the oldest education institutions T.B. Jayah Zahira College which is situated in Slave Island and Arethusa College that is tucked away in Colombo 6 off Hampden Lane will go up on Saturday, May 19 at the Colombo Malay ground.
Founded in 1935 T.B. Jayah Zahira College celebrated 75 years of educational service to the country. The institution has given to the country many luminaries who have shone not only in the fields of medicine, law, administration but also in sports especially football for which they have produced for the country.
Medium Pacer Iqlas Ismail leads the Slave Island lads for this inaugural big match while Ishanka Rohana the stumper of the Arathusa Xl leads the side. The willow game first saw the light of day at the college in the year 2011 with the generous support of the philanthropists of the Malay Cricket Club who were very generous by providing the players with free ground facilities and equipment.
T.B. Jayah Zahira College has over the years met and shown their cricket prowess by meeting and defeating many schools. Motivation for the game has been given by the teachers in charge and the prefects. Further enhancement for the game has been given by the Old Boys Association who have extended their unstinted support.
Arethusa College was founded on July 1, in 1929 by the Colombo South Educational Division.
The college has been performing to the best of their abilities with the limited resources available to them and even entered the second round of the All Island Schools cricket tournament in 1998. Furthemore, they added a feather to their cap when they won third place in the Colombo South Educational Division cricket tournament in 2012.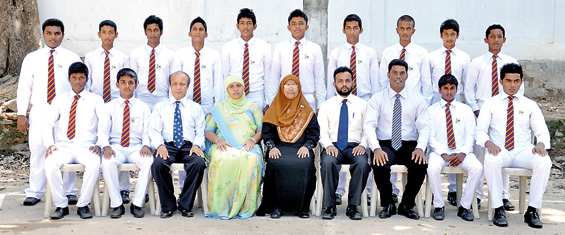 Standing Left to Right: Nabeel Naushad, Izrath Salahudeen, Arafath Nawaz, Irshad Naleer, Minhaj Nizardeen, Rimaaz Nizam, Mohamed Ishak, Aashad Razik, Naveez Mustar, Akeel Saifudeen. Seated Left to Right: Rahmath Ali, Iqlas Ismail (Captain), T. Hameem (Master-In-Charge), M.N.S. Farhana (Teacher-In-Charge Sports), Nazeera Hassanar (Principal), M.R.M. Manzil (Prefect of Games), Mohamed Rizwan (Coach), Muize Mustar (Vice Captain), Mohamed Arfan and Abdul Rahuman (Absent)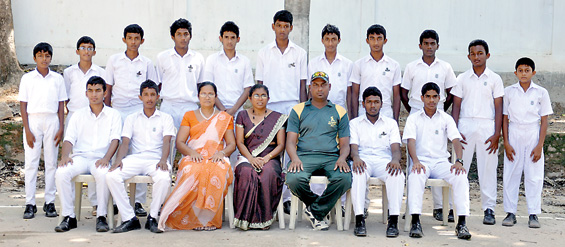 Standing Left to Right: Sadish Kumar, Bahudeen Riyas, Malindu Pradeep, Nuwan Jayamalith, Mohamed Imran, Alex Dian Perera, Lakshitha Senevirathne, Mohamed Nazeer, Imzan Imthiaz, Inamul Hasan, Sajith Jamil. Seated Left to Right: Insah Bishry, Ishanka Rochana (Captain), Sudharma Wijesekara (Physical Education Teacher), Bimla Vidranthi (Principal), Dilrukshan Fabian Foux (Coach), Umaid Mafaz (Vice Captain), Mohamed Faazil, Nirochana Perera (Absent), Faazil Niyasdeen (Absent). – Pix by Amila Prabodha