Royal had a tough time on their hands to down Science College Mt. Lavinia 32-17 in their Inter-School Division I 'A' Inter-School rugby game at the Science Ground in Mt. Lavinia yesterday. At the breather Royal led 12-0. Royal obtained their points through 2 Goals, 3 Tries and a Penalty to 2 Tries and a Penalty scored by Science.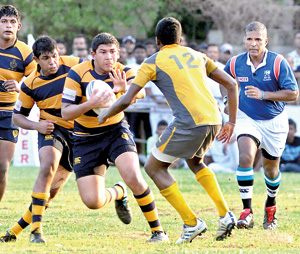 Royalilst Ijaz Bohran in total control over Science. (Pic by Ranjith Perera)
The score line may indicate a one way run for Royal but it was hardly so. The Science three-quarters showed a lot of promise and gave the Royal outsides a torrid time with their piercing runs.Early in the game Prins Chamara put over a penalty and Science shot into the lead at 3-0. Five minutes later Royal hit back to take the lead through an unconverted Niroshan Jayawardena try at 5-3.
Not to be outdone Science made good use of their speedy and clever outsides to score next when winger Maduranga scored under the posts. Prins Chamara was on target with the conversion to put Science into the lead at 10-5.
The tit-for-tat scoring continued when Ijaz Bohran scored far left and Arshad Jamaldeen put over the penalty to snatch back the lead for Royal at 12-10. Half time was taken at this score. With Royal ahead by a slender two points the stage was set for a do-or-die battle and spectators were not disappointed. Winger Rimzi Jamaldeen showed a clean pair of heels to score for Royal and the visitors consolidated their lead at 17-10. An easy penalty by Arshad Jamaldeen came next and Royal was really sitting pretty with a 20-10 lead.
Ijaz Bohran ran in next and Royal was clearly in the lead at 25-10.
Slowly but surely Science came back into the scene with Kanchana Lakshitha blazing through for a fine try right under the posts brushing past several Royal defenders. Prince Chamara converted and Science were close on Royal's heels. Royal 25, Science 17. That seemed to be the only time that Science threatened Royal's lead. Royal scored with ease through Arshad Jamaldeen next which he himself converted to take the lead firmly at 32-17.
Science did threaten the Royal defense with several scorching runs. The Royal line was stretched and pummeled but did not break until Royal ran out winners at 32-17.
Referee Dilroy Fernando.
Earlier in the Under 16 game Royal beat Science 16-0.