It was tense, tough and titanic. At the end of the game, there was another team that had bitten the dust and lost its unbeaten tag. This time it was Trinity who were beaten by 34 points (4 Goals, 2 Penalties) to 29 (3 Goals, 1 Try, 1 Penalty) at Pallekele.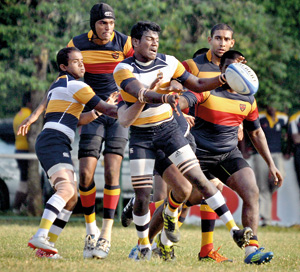 A St. Peter's player makes an offload while being held by a Trinitian. (Pic by Amila Prabodha)
On balance, the Peterites deserved their win. Fly half Dulaj Perera was the undoubted hero as he ran, spotted gaps, converted and gained oh so many yards with his kicking to touch. He made light of Dhanushka Ranjan's absence by his superb display of thinking rugby.
Number eight Anuradha Herath also gave a lion-hearted display and capped it by scoring the try that put the issue beyond doubt. For Trinity, winger Dharshana Udalagama went over twice and was a constant menace to the defense with his speed (and even acrobatics).
Perera kicked an early penalty for a short lived lead. Three minutes later, two Peterite defenders were bemused by the wrong bounce and Udalagama waltzed through (7-3). The Petes stormed back at once. They took play deep into Trinity territory and Herath collected to waltz his way to score.
Dulaj fooled the Trinitians by shaping to take a penalty and then swung it out to the right wing. The ball came back to him and he somehow found a way through (17 all). Trinity applied pressure straightaway and Udalagama collected a little chip to the right wing and strolled over for an unconverted try.
Trinity played with more gusto and determination in the second half. The ball was more on Peterite territory. A penalty was their which effectively sealed the game at 27-22 to St. Peter's. However there was time enough for one last act of defiance from Trinity skipper and centre Kaneel Seneviratne. The Trinity line handled the ball beautifully and all of a sudden, Seneviratne burst through to score.
Referee Irshad Cader had to show the yellow card to a Peterite on the bench as he set upon a Trinitian who was pushed yards out into touch into the crowd of substitutes.
U18 game – St. Peter's 6. Trinity 5.