'We could have won' was the word most Joe supporters chanted as they left St. Peters ground. I disagree with "could have won "as it has to be "should have won". Having shocked Peters; first with a tackle that took out their captain and playmaker, Joes took the lead at half time by 11 points to 7 and to a comfortable lead by 24 points to 12 with a few minutes left.

A lead that could have been stretched was turned into a defeat with wrong options being taken mostly from your half of the ground. The single most important missing link to take the win was the lack of desire, to stay in there and win. This should happen even when you are not playing that well. "The desire and the killer instinct" was absent under the post where nobody at least attempted a charge to prevent two points more for Peter's.
Joseph's had the game and were making Peter's to be disoriented whenever they were in their opponent's territory. From that point they did play well. Where they did not play well was in not consolidating their position but tried some unimaginative moves in breaking and or running solo in their half that brought pressure unto them. With play maker and captain Dhanushka Ranjan out of the game Peter's looked very much ordinary as possibly all was centered on him.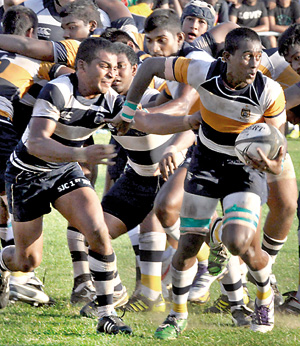 Schools league rugby took a break other than for this rescheduled rain abandoned match between St. Peter's College and St. Joseph's College. This was a trophy game between two traditional rivals for the Fr. Basil Wiratunga Shield in addition to being a schools league game. The bets were for an expected easy passage to Peter's who in the previous week defeated Kingswood by a huge margin. Peter's were however shaken by the aggressive nature by which Joes took the field. In the first few minutes skipper and playmaker Ranjan had to leave the field with a knee injury and with the Peter's leading 7 points to nil. The Joes however took things to their advantage and lead by 11 points to seven and went on to lead by 24 points to 12 with only minutes of the second half left.
Surprisingly in a space of around 15 minutes the Peter's scored 22 points to win the game 34 points to 24. Though the game was played in sporadic forays of individual attempts, lacking cohesion, the fairly large number present had their moments of excitement.
A couple of times possibly buoyed by having scored and leading the Joes ran the ball from their own 22 and most times in their half of the ground and were caught. This gave the challengers an advantageous position to launch their attack. Embracing the Basil Wiratunga Shield with tears of joy, turned to be tears of frustration.
Trinity and S. Thomas' played in Kandy for the Cannon de Saram Trophy. It was a bit of a shock reading of scores at half time as 21 points to 19 with Trinity trailing. Yet the game ended with a convincing win for Trinity by a score of 52 to 21. Trinity who apparently kept out some of their better players in the first half went out in strength in the second half and won the game convincingly.
S. Thomas' could be satisfied with the first half performance as they attempt to take the Division I B championship. They have to get to grips with the reality that they are in B group don't have exposure to stronger opposition and have to work to retain their energy. It is a long season for them with the league as well as the addition of four traditional matches.
The lesson from Trinity this week is that you should never underestimate the opponents. The underdogs are always ready for the kill and you should be there to take the challenge. They played the price last year losing to giant killers 'Science" who were wooden spoons at that time. This time around they learnt fast now from their mistake and came back strong. In the Asian 5 Nations Korea broke the Hong Kong hearts with three minutes remaining to score the match-winning try over last year's runners-up who had high hopes of challenging champions Japan for the Asian crown this season. Hong Kong started the game somewhat out of sorts and late to breakdowns which gave Korea the chance to dominate .At half time Korea a led by 14 to 6. Hong Kong however looked more composed and the changes seemed to have done well. With three minutes to go Hong Kong were leading 19 points to 14. The Hong Kong party ended with Korea scoring. Korea converted all three tries which made the difference.
"We're very, very happy and all credit goes to the players," said delighted South Korean head coach Seo Chun-Oh after the victory marking the return of his team to the top flight in Asia. Physically Korea matched HK and their backs with a lot of sevens experience were a threat at all times.
John McEnroe is quoted "this taught me a lesson, but I'm not quite sure what it is". It seems something we need to take to heart as it appears that it is not that we at home don't learn a lesson. We learn but don't know what?
Vimal Perera is a former Rugby Referee, coach and Accredited Referees Evaluator IRB