Last week's police announcement that the three-passenger-rule in a three-wheeler will be strictly enforced has had a smooth ride in some quarters, but bumpy in others, amidst questions about the interpretation of the law by the police.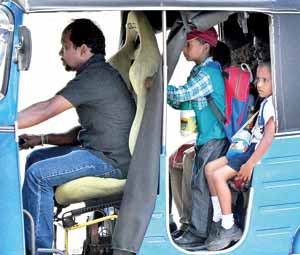 Pix by Mangala Weerasekera
"We have been enforcing this rule from May 8 and drivers and owners of three-wheelers who violate the law will not face spot fines but will be produced in courts. In cases of repeated offences the licence could be cancelled," Police Spokesman SP Ajith Rohana said.
He said between April 1 and May 10, 30 accidents involving three-wheelers and 34 deaths were reported. islandwide Stressing that the law will be applied not only in urban areas but rural areas too, he said, many of the accidents with fatalities were reported outside Colombo.
"The recent deaths related to three-wheeler accidents were reported from Ahungalle, Ambalantota and Nittambuwa. A three-wheeler driver was arrested in Hasalaka for transporting 14 schoolchildren on a single trip. During the Vesak week many accidents occurred due to the overloading of passengers," he said.
However, according to the Motor Traffic Department safety rules regarding three wheelers is only addressed in the vehicle registration guideline and construction regulation. Both state that apart from the driver who is in the front seat only three-passengers, including adults and children, will be allowed in the rear seat.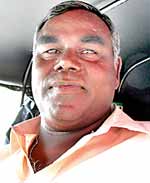 J. Apposta: Welcomed the move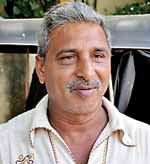 H.Perera: Families won't opt to travel with us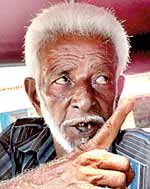 Abdul Yusuf: Discipline has deteriorated
"Though some claim that two children under 12-years of age are considered as one adult, these regulations do not clarify this. One cannot expect passengers to carry birth certificates whenever they travel," Motor Traffic Commissioner General S.H. Harischandra said.
He said according to construction regulations, a passenger should be allocated 383 mm (15 inches) in a vehicle. The width of a three-wheeler is 1,115 mm. According to Mr. Harischandra safety regulations regarding three-wheelers are still in the drafting stage and once they are approved by Parliament they will be implemented.
While some three-wheeler associations have welcomed the move by police not all are happy.
The All Island Three-Wheeler Drivers' Union president Lalith Dharmasekare said they welcome the move as the law stipulates only three passengers can travel in a three-wheeler although no authority had enforced the law all this time. "This rule should be implemented along with other safety measures such as ensuring that the right side of the passenger seat is closed for passenger safety," he said.
However, chairman All Island Three Wheel Drivers and Owners' Association Sudhil Jayaruk said such a law should be enforced only after consulting representatives of the profession as it will affect their income.
In this backdrop the Sunday Times spoke to several three-wheeler drivers and passengers to get their views on the move to implement the three-passenger rule. Padmini Perera, from Panadura is an employed mother of two teenaged daughters. "Now with this law, if we have to travel as a family we will have to leave one person behind or think of another mode of travel. But we all know the state of the public transport with buses being overcrowded. Authorities should therefore take stock of these shortcomings and make bus travel more people-friendly," she complained.
J. Apposta, a three wheeler driver from Bambalapitiya welcomed the move but said the number of passengers allowed in a vehicle should be increased to four. "In Sri Lanka, a family unit usually consists of four. However, taking more than four passengers not only makes the vehicle unstable but also makes it difficult to drive," he said.
A.Yusuf from Slave Island, who has been a three-wheeler driver since 1983 said over the years discipline had deteriorated among three-wheeler drivers especially when it came to school hires.
"Three-wheelers involved in school hires should always have a female adult accompanying the children. There are some three-wheelers that carry more than 10 children and many of them don't have the enclosure on the right side. If the driver suddenly applies the brakes the children could even fall out of the vehicle. I believe four or five children accompanied by an adult should be allowed to travel.
H. Perera, another three-wheeler driver from Bauddhaloka Mawatha said this rule will dissuade families from travelling in three—wheelers.
"If the law at least allowed four passengers we would have families travelling. Now we will only get individuals or two people the most travelling short distances. Families will no longer be able to use three-wheelers to go on long family trips," he said. He said he usually gets a number of hires where mothers pick up their children after extra classes or sport practices. " Two mothers get in with their children and share the charge. With the spiralling cost of living, three-wheeler drivers who earn about Rs. 1000 a day will now lose their income by about 50 percent,"he complained.
It was a similar story from the outstations. Rohitha Priyantha, President of the Weliweriya Three-wheeler Drivers' Association in Gampaha district said, "A three-wheeler running on petrol can carry four persons while a diesel vehicle five passengers. In the villages the public transport system is not very efficient and sometimes there are no buses in some areas. These people are poor but at least they are able to get about by paying a small amount and travelling in three-wheelers," he said.
He said some routes do not have a school bus service and three wheelers step in to provide school hires. "If the bus service was efficient, we won't be forced to carry 10 or more children in the morning as the schools are situated quite a distance from the villages leaving no time for a second trip," he added. Meanwhile Private Transport Minister C.B.Ratnayake told the Sunday Times that although three wheeler drivers will have to face financial problems these safety measures should be followed.
"Only three passengers are covered by insurance and with the third party insurance scheme, there will be no one to compensate the passengers and the government will have to bear that cost as well in the case of an accident," he said, adding that safety measures regarding the number of passengers allowed to travel in a bus too should be implemented but the lack of both state and private buses has hampered its implementation.