Gemunu's parents: They were looking forward to seeing their son after many months. Pic by Susatha Liyanawatte
Twenty-five-year-old Gemunu Jayakody of Gonapala, Piliyandala, who went to South Korea in July last year had high hopes for his future. But they were gutted last week, when he was caught in a fire there.
He was among nine persons, including two other Sri Lankans, who died in the inferno.
"Last Saturday night, my son was taken by bus to a get-together organised by the company he was working for. His roommate told me that he did not want to go to the event. Gemunu decided otherwise because his friends pleaded with him to come," Gemunu's father Gamini Jayakody said.
The event was at a karaoke lounge housed in a six-story building in Busan.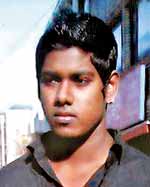 Gemunu: Tragic end
According to his friends, around 10 p.m., a fierce blaze swept the building driving the people inside towards the emergency exit. Initially, Gemunu was among the people who made it to the exit on time, but two of Gemunu's Sri Lankan friends who were trapped inside, called out for help. Gemunu ran back into the smoke-filled room to rescue his two friends, according to eyewitnesses quoted by his father.
Later that night, the fire fighters found the three friends hand-in-hand and unconscious.Gemunu's father said that it was around 7 o'clock in the morning, the day after Vesak, when he got the news through a friend. Although in shock he decided not to tell the rest of the family until he got confirmation of the tragedy.
Nine people, along with Gemunu and his two friends, Shanika Sampath Jayasooriya of Mahiyangana and Gayan Chamara Attanayake of Morawaka, died in the fire, while 20 were severely injured.
The fire had originated in the third floor of the building and the victims were unable to find the exits due to the complicated layout and the sound-insulating material the rooms were made of.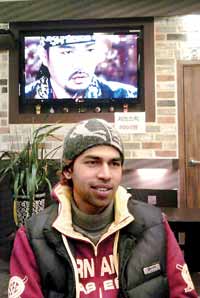 Chamara: One of the trio who died in the fire. Pic by Jeewaka jayaruk
"Whenever I called my son, I always asked him to come back home, and at last I was able to convince him. He was to come home in a few weeks, and we were looking forward to seeing our son after many months," Gemunu's mother Ramyalatha Sooriyaarachchi said.
Mr. Jayakody said his son had many dreams and among them was to send his parents to Dambadiva. He also wanted to buy a car, while ensuring a comfortable life for his parents and helping his siblings to get good jobs.
Gemunu's family members said they were disturbed by some of the media reports pertaining to the fire and its victims. "My brother was a good person. Gemunu was always there for any person who needed help. It is very hurtful to see how people have interpreted the story. Some say that my brother had been clubbing with his friends when the fire broke out. This was not so," Gemunu's grief-stricken elder sister Sucharitha said.
The Sri Lanka Foreign Employment Bureau (SLFEB) said the victims' families will be paid compensation as the victims were registered with the SLFEB. The three bodies were flown to Sri Lanka on Friday.